PIB Headquarters
PIB'S BULLETIN ON COVID-19
Posted On:
22 JUL 2021 7:32PM by PIB Delhi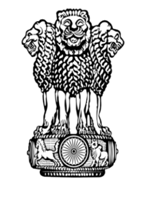 41.78 Cr. Vaccine Doses administered so far under Nationwide Vaccination Drive
3,04,29,339 total recoveries across the country so far
Recovery Rate currently at 97.35%
38,652 patients recovered during last 24 hours
India reports 41,383 new cases in last 24 hours
India's Active Caseload currently at 4,09,394
Active cases constitute 1.31% of total cases
Weekly Positivity Rate remainsbelow5%, currently at 2.12%
Daily positivity rate at 2.41%, less than 3% for 31consecutive days
Testing capacity substantially ramped up – 45.09crore tests conducted (Total)
#Unite2FightCorona#IndiaFightsCorona
.
PRESS INFORMATION BUREAU
MINISTRY OF INFORMATION & BROADCASTING
GOVERNMENT OF INDIA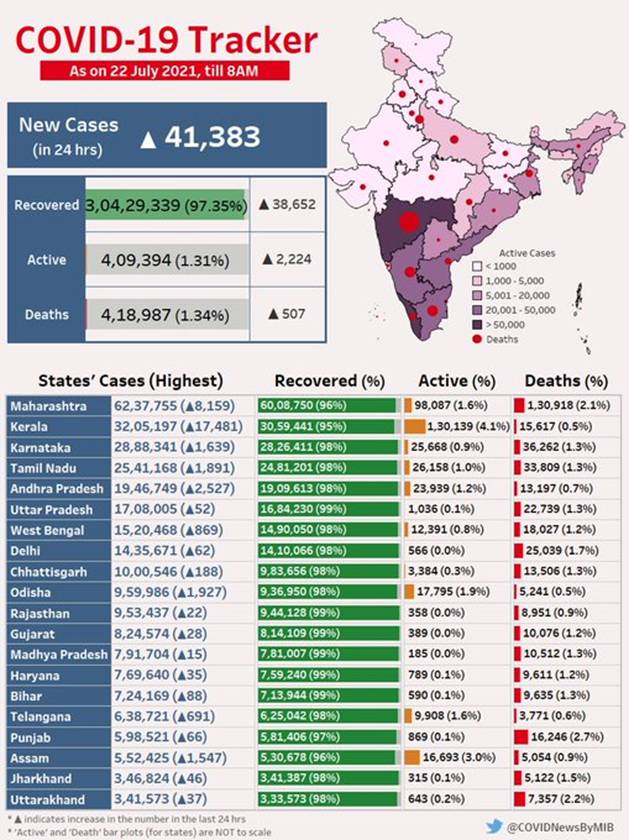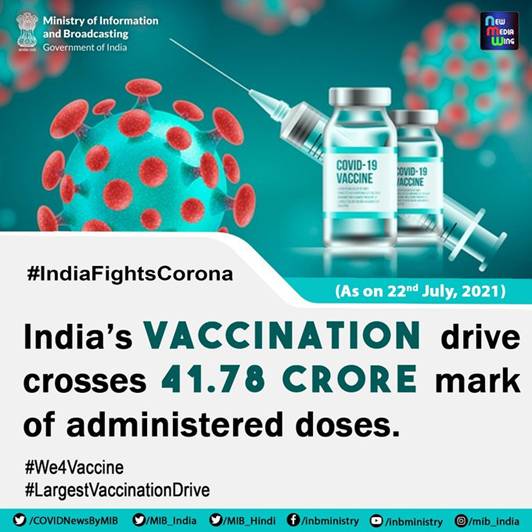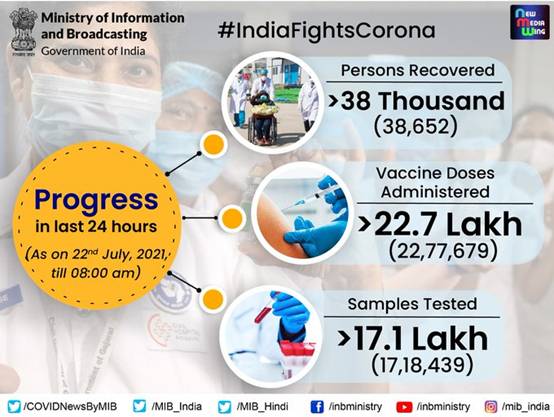 COVID-19 Update
India's Cumulative COVID-19 Vaccination Coverage exceeds 41.78 Cr

Recovery Rate stands at 97.35%

41,383 Daily New Cases reported in last 24 hours

India's Active Caseload (4,09,394) presently constitutes 1.31% of total cases

Daily Positivity Rate (2.41%) less than 3% for 31 consecutive days
India's COVID-19 vaccination coverage has exceeded 41.78 crores. Cumulatively, 41,78,51,151 vaccine doses have been administered through 51,60,995 sessions, as per the provisional report till 7 am today. 22,77,679 vaccine doses were administered in the last 24 hours.
These include:
HCWs

1st Dose

1,02,77,386

2nd Dose

76,11,600

FLWs

1st Dose

1,78,24,546

2nd Dose

1,05,49,835

Age Group 18-44 years

1st Dose

13,05,53,816

2nd Dose

53,22,634

Age Group 45-59 years

1st Dose

9,89,17,103

2nd Dose

3,15,85,098

Over 60 years

1st Dose

7,26,86,361

2nd Dose

3,25,22,772

Total

41,78,51,151
The new phase of universalization of COVID-19 vaccination has commenced from 21st June, 2021. The Union Government is committed to accelerating the pace and expanding the scope of COVID-19 vaccination throughout the country.
Out of the people infected since the beginning of the pandemic, 3,04,29,339 people have already recovered from COVID-19 and 38,652 patients have recovered in the last 24 hours. This constitutes an overall recovery rate of 97.35%.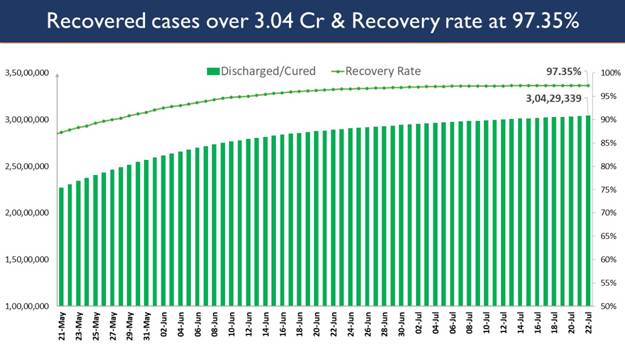 India has reported 41,383 daily new cases in the last 24 hours.
Less than 50,000 Daily New Cases have been reported since twenty-five continuous days. This is a result of sustained and collaborative efforts by the Centre and the States/UTs.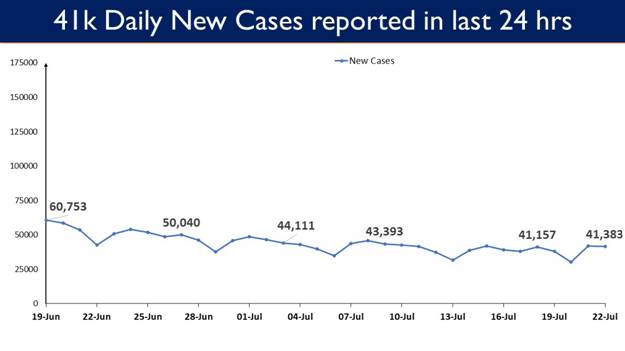 India's Active Caseload today stands at 4,09,394 and active cases now constitute 1.31% of the country's total Positive Cases.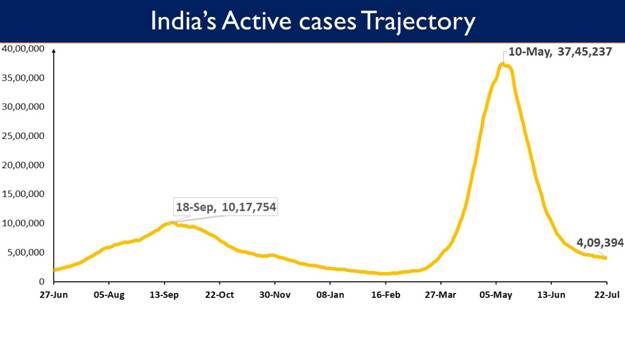 With substantially ramped up testing capacity across the country, a total of 17,18,439 tests were conducted in the last 24 hours in the country. Cumulatively, India has conducted over 45.09 crore (45,09,11,712) tests so far.
While on one side testing capacity has been enhanced across the country, Weekly Positivity Rate is currently at 2.12% and the Daily Positivity rate stands at 2.41% today. Daily Positivity rate has remained less than 3% for 31 consecutive days, and has remained below 5% for 45 consecutive days now.
Details: https://pib.gov.in/PressReleasePage.aspx?PRID=1737637
COVID-19 Vaccination Update
More than 43.79 Crore vaccine doses provided to States/UTs
More than 3.20 Crore balance and unutilized doses still available with States/UTs and private hospitals to be administered
As part of the nationwide vaccination drive, Government of India has been supporting the States and UTs by providing them COVID Vaccines free of cost. In the new phase of the universalization of the COVID19 vaccination drive, the Union Government will procure and supply (free of cost) 75% of the vaccines being produced by the vaccine manufacturers in the country to States and UTs.
 

VACCINE DOSES

 

(As on 22nd July 2021)

 

SUPPLIED

 

43,79,78,900

 

IN PIPELINE

 

7,00,000

 

CONSUMPTION

 

40,59,77,410

 

BALANCE AVAILABLE

 

 

3,20,01,490
More than 43.79 crore (43,79,78,900) vaccine doses have been provided to States/UTs so far, through all sources and a further 7,00,000 doses are in the pipeline.
Of this, the total consumption including wastages is 40,59,77,410 doses (as per data available at 8 AM today).
More than 3.20 Cr (3,20,01,490) balance and unutilized COVID Vaccine doses are still available with the States/UTs and private hospitals to be administered.
Details: https://pib.gov.in/PressReleasePage.aspx?PRID=1737613
COVID19 Mortality: Myths Vs. Facts
Union Health Ministry has always advised States to conduct death audits in their hospitals and also report any cases or deaths that could have been missed
India follows ICMR guidelines which are based on WHO recommended ICD-10 codes for correct recording of all COVID-19 deaths
India has a robust system of recording Covid-19 deaths
There have been some recent media reports alleging that India's toll of excess deaths during the pandemic could be in millions, terming the official COVID-19 death toll as 'vastly undercounted'.
In these news reports quoting findings from some recent studies,US & European countries' age-specific infection fatality rates have been used to calculate excess deaths in India based on the sero-positivity. The extrapolation of deaths has been done on an audacious assumption that the likelihood of any given infected person dying is the same across countries, dismissing the interplay between various direct & indirect factors such as race, ethnicity, genomic constitution of a population, previous exposure levels to other diseases and the associated immunity developed in that population.
Details: https://pib.gov.in/PressReleasePage.aspx?PRID=1737625
Inputs from PIB Field Units
Punjab: The total number of patients tested Positive is 598521. Number of active cases is869. Total Deaths reported is 16246. Total COVID-19 Vaccinated with 1st dose(Healthcare + Frontline Workers) is 1356941. Total COVID-19 Vaccinated with 2nd dose(Healthcare + Frontline Workers) is 408009. Total above 45 Vaccinated with 1st dose is3681650. Total above 45 Vaccinated with 2nd dose is 1061582.
Haryana: Total Number of Samples found positive till date is 769640. Total activeCOVID-19 patients is 789. Number of deaths is 9611. Cumulative number of peoplevaccinated till date is 10823925.
Chandigarh: Total Lab confirmed COVID-19 cases is 61914. Total number of ActiveCases is 41. Total number of COVID-19 deaths till date is 809.
Assam: 1,547 fresh COVID-19 cases were detected in the State on Wednesday & 25 people died of the pandemic. While the positivity rate in the State during the day was 2.09 percent, the recovery rate was 96.06 percent.
Manipur: Manipur sees 1,327 cases; positivity rate at 19. 4 % amid curfew, 15 deaths reported. On Tuesday, 24,795 doses of vaccines were administered in the State and the cumulative number of vaccinated individuals has reached 9,65,342. 1,25,580 have got full dose of the vaccine so far.
Meghalaya: Meghalaya recorded over 500 fresh COVID cases while six more patients succumbed to viral infection in the last 24 hours.
Nagaland: Nagaland reports 105 new cases of COVID-19 and 3 deaths on Wednesday. Active cases are 1218 while total is 26,943.
Sikkim: The number of active cases of Covid-19 in Sikkim are 2,616 with 251 new cases of novel coronavirusbeing reported in the past 24 hours from the testing of 1,265 sampleson Tuesday, giving Sikkim a daily test positivityrate of 19.8%. Sikkim'stally of confirmed casesof COVID-19 detected inthe State since 28 Feb,2020, has now reached24,047. TheState also recorded onemore COVID death in thelast 24 hours taking theState's COVID death tollto 326.
KERALA: While the 17,481 new cases confirmed on the day werethe highest in over 45 days, the TPR of 11.97% on Wednesday was thehighest since June 13, when the figure had been over 12%.So far a total of 1,74,87,400 people have taken vaccination in thestate. Out of this, 1,23,67,167 took first dose and 51,20,233 seconddose.
TAMIL NADU: Tamil Nadu recorded 1,891 new cases of COVID-19. No fatality recorded in 21 districts, 1.96 crore people havebeen vaccinated for Covid-19 in the state.
KARNATAKA: As per the State Government bulletin released for 21-07-2021, New Cases Reported: 1,639; Total Active Cases: 25,645 New CovidDeaths: 36; Total Covid Deaths: 36,262;Around 1,48,500 were vaccinated yesterday with a total of 2,79,32,492have been vaccinated in the state till now.
ANDHRA PRADESH: State reported 2527 new Covid-19 cases aftertesting 86,280 samples with 19 deaths, while 2412 got discharged duringthe last 24 hours. Total cases: 19,46,749; Active cases: 23,939;Discharges: 19,09,613; Deaths: 13,197.A total of 1,91,54,888 doses of Covid vaccines have been administered inthe state as on yesterday, which include 1,47,39,442 first doses and44,15,446 second doses.
TELANGANA: A total of 691 new cases and five fatalities were reportedyesterday taking the total number of positive cases in the state to6,38,721 and deaths to 3,771. The Case Fatality
Rate (CFR) is reported to be 0.59 percent against the national average of1.3 percent. The number of active cases in the state now stands at 9,908.
Important Tweets
Initiatives taken for maintenance of #NationalHighways to overcome constraints due to #COVID19

Details: https://t.co/xFEObfUmPa@NHAI_Official @MORTHIndia pic.twitter.com/h1ENntlAOH

— MIB India 🇮🇳 #Cheer4India (@MIB_India) July 22, 2021
#COVID19 Mortality: Myths vs Facts

Excess mortality is a term used to describe an all-cause mortality figure and attributing these deaths to #COVID19 is completely misleading

Read here👉 https://t.co/mH9meuFpZB pic.twitter.com/KeJRgUAxXm

— PIB India (@PIB_India) July 22, 2021
To design better response and help evolve best strategy in fight against #Covid19, the new web portal of #StateControlRoom is equipped with dynamic #covid dashboard.

Launched the official website (https://t.co/LRjoqqtE5A) today that will provide information on crucial services. pic.twitter.com/8Adzk0cWao

— Pema Khandu པདྨ་མཁའ་འགྲོ་། (@PemaKhanduBJP) July 22, 2021
State-wise details of Total Confirmed #COVID19 cases (till 22nd July, 2021, 8 AM)

➡️States with 1-100000 confirmed cases
➡️States with 100001-800000 confirmed cases
➡️States with 800000+ confirmed cases
➡️Total no. of confirmed cases so far#StaySafe pic.twitter.com/f3MOzDV7M8

— #IndiaFightsCorona (@COVIDNewsByMIB) July 22, 2021
📍Government of India has so far provided more than 43.79 crore vaccine doses to States/UTs Free of Cost (As on 22nd July, 2021, 8:00 am)

➡️More than 3.20 crore doses are still available with States/UTs to be administered.#We4Vaccine #Unite2FightCorona pic.twitter.com/NpjulOrehA

— #IndiaFightsCorona (@COVIDNewsByMIB) July 22, 2021
📍#𝑪𝑶𝑽𝑰𝑫19 𝑽𝒂𝒄𝒄𝒊𝒏𝒆 𝑫𝒐𝒔𝒆𝒔: 𝑨𝒈𝒆-𝒘𝒊𝒔𝒆 𝑫𝒊𝒔𝒕𝒓𝒊𝒃𝒖𝒕𝒊𝒐𝒏 (As on July 22nd, 2021, till 09:00 AM)

✅ Above 60 years: 25.7%
✅ 45-60 years: 34.1%
✅ 18-44 years: 40.2%#We4Vaccine#LargestVaccinationDrive#Unite2FightCorona pic.twitter.com/ytQvqoXoO4

— #IndiaFightsCorona (@COVIDNewsByMIB) July 22, 2021
Day 187 | With over 417 million administered vaccine doses, the world's #LargestVaccineDrive is making steady headway!

For more real-time updates, visit: https://t.co/RjQaXU74WY. #IndiaFightsCorona pic.twitter.com/b8wG84fNCS

— MyGovIndia (@mygovindia) July 22, 2021
*********
MV/AS
(Release ID: 1737873)
Visitor Counter : 118