PIB Headquarters
PIB'S BULLETIN ON COVID-19
Posted On:
30 JUL 2021 7:57PM by PIB Delhi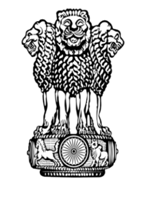 45.60 Cr. Vaccine Doses administered so far under Nationwide Vaccination Drive
3,07,43,972total recoveries across the country so far
Recovery Rate currently at 97.38%
42,360patients recovered during last 24 hours
India reports 44,230new cases in last 24 hours
India's Active caseload currently 4,05,155
Active cases constitute 1.28% of total cases
Weekly Positivity Rate remainsbelow5%, currently at 2.43%
Daily positivity rate at 2.44%, remains below 5%
Testing capacity substantially ramped up – 46.46crore tests conducted(Total)
#Unite2FightCorona#IndiaFightsCorona
PRESS INFORMATION BUREAU
MINISTRY OF INFORMATION & BROADCASTING
GOVERNMENT OF INDIA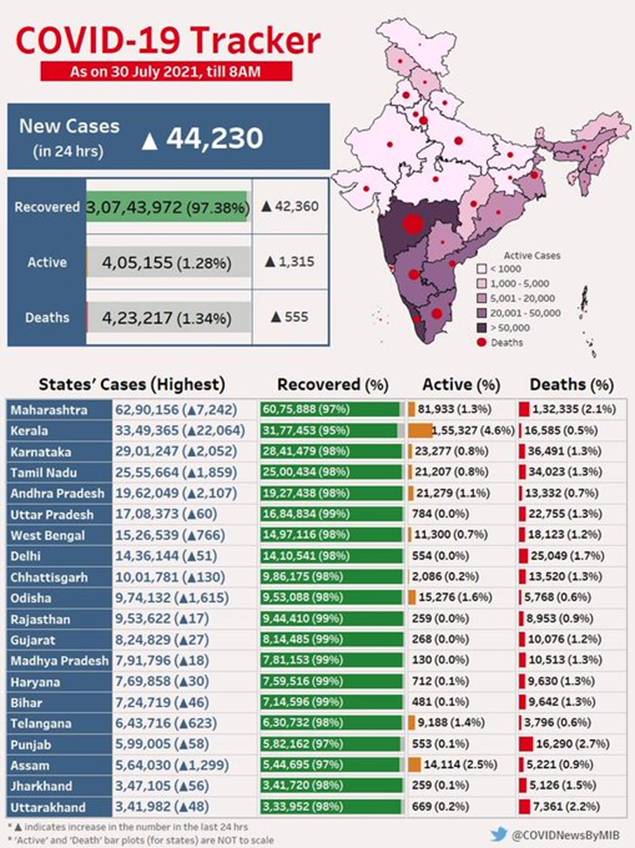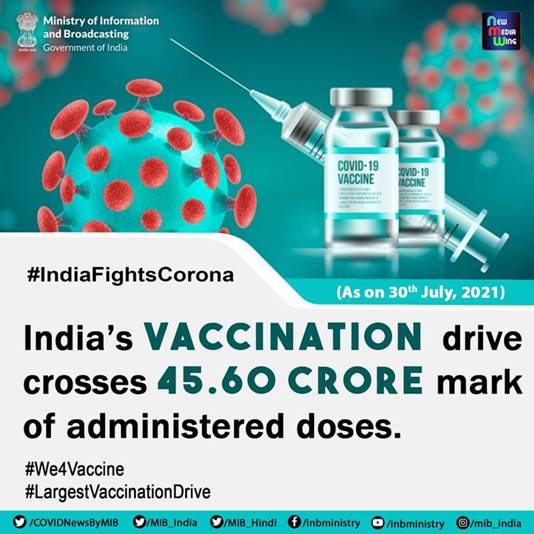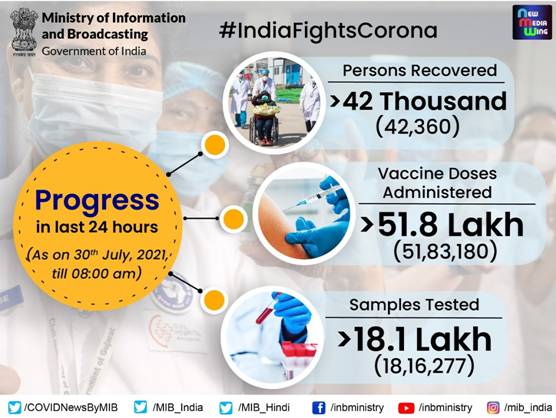 COVID-19 Update
India's Cumulative COVID-19 Vaccination Coverage exceeds 45.60 Cr
More than 51 Lakh vaccine doses administered in the last 24 hours
Recovery Rate stands at 97.38%
44,230Daily New Cases reported in last 24 hours
India's Active Caseload (4,05,155) presently constitutes 1.28% of total cases
Daily Positivity Rate (2.44%) less than 5% for 53 consecutive days
India's COVID-19 vaccination coverageexceeded 45.60 Cr yesterday. Cumulatively,45,60,33,754vaccine doses have been administered through 54,50,378sessions, as per the provisional report till 8 am today. 51,83,180vaccine doses were administered in the last 24 hours.These include:
HCWs

1st Dose

1,02,98,871

2nd Dose

77,94,788

FLWs

1st Dose

1,79,23,328

2nd Dose

1,11,57,062

Age Group 18-44 years

1st Dose

14,95,34,704

2nd Dose

76,78,805

Age Group 45-59 years

1st Dose

10,37,58,165

2nd Dose

3,75,98,059

Over 60 years

1st Dose

7,46,25,671

2nd Dose

3,56,64,301

Total

45,60,33,754
The new phase of universalization of COVID-19 vaccination has commenced from 21st June, 2021. The Union Government is committed to accelerating the pace and expanding the scope of COVID-19 vaccination throughout the country.
Out of the people infected since the beginning of the pandemic, 3,07,43,972people have already recovered from COVID-19 and42,360patients have recovered in the last 24 hours. This constitutes an overall recovery rate of 97.38%.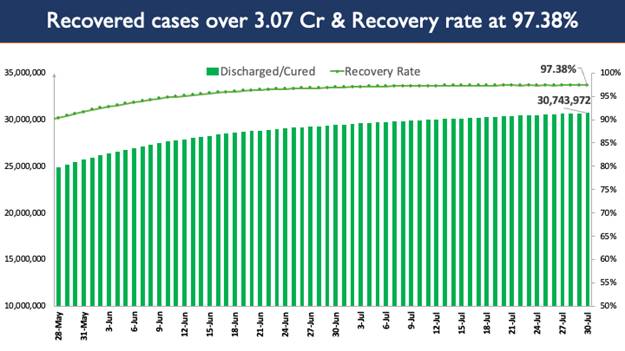 India has reported 44,230daily new cases in the last 24 hours.
Less than 50,000 Daily New Cases have been reported since thirty-three continuous days. This is a result of sustained and collaborative efforts by the Centre and the States/UTs.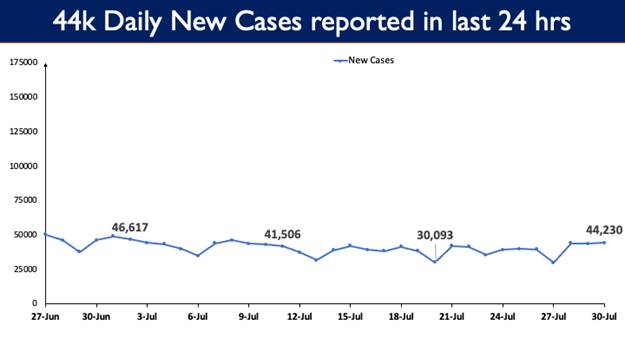 India's Active Caseload today stands at 4,05,155and active cases now constitute1.28% of the country's total Positive Cases.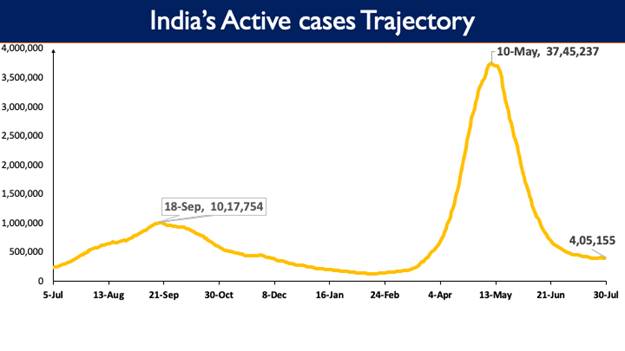 With substantially ramped up testing capacity across the country, a total of 18,16,277tests were conducted in the last 24 hours in the country. Cumulatively, India has conducted over 46 crore (46,46,50,723) tests so far.
While on one side testing capacity has been enhanced across the country, Weekly Positivity Rate is currently at 2.43% and the Daily Positivity rate stands at 2.44% today. Daily Positivity rate has remained below 5%for 53 consecutive days now.
Details: https://pib.gov.in/PressReleseDetail.aspx?PRID=1740584
COVID-19 Vaccination Update
More than 48.03 Crore vaccine doses provided to States/UTs
More than 2.92 Crore balance and unutilized doses still available with States/UTs and private hospitals to be administered
As part of the nationwide vaccination drive, Government of India has been supporting the States and UTs by providing them COVID Vaccines free of cost. In the new phase of the universalization of the COVID19 vaccination drive, the Union Government will procure and supply (free of cost) 75% of the vaccines being produced by the vaccine manufacturers in the country to States and UTs.
 

VACCINE DOSES

 

(As on 30 July 2021)

 

SUPPLIED

 

48,03,97,080

 

IN PIPELINE

 

71,16,720

 

CONSUMPTION

 

45,27,93,441

 

BALANCE AVAILABLE

 

 

2,92,65,015
More than 48.03 crore (48,03,97,080) vaccine doses have been provided to States/UTs so far, through all sources and a further 71,16,720 doses are in the pipeline.Of this, the total consumption including wastages is 45,27,93,441 doses (as per data available at 8 AM today).
More than 2.92 Cr (2,92,65,015) balance and unutilized COVID Vaccine doses are still available with the States/UTs and private hospitals to be administered.
Details: https://pib.gov.in/PressReleseDetail.aspx?PRID=1740589
COVID-19 Vaccination- Myths vs. Facts
The Union Government committed to supporting the States in expanding their COVID19 Vaccination coverage and pace of vaccination
Uttar Pradesh's 'cluster approach' for vaccination and creating special 'pink booths' for women have added to its high vaccination coverage
Vaccination coverage consistently rising in Bihar
There have been some media reports alleging slow pace of COVID-19 vaccination drive in Uttar Pradesh and Bihar, further stating that it will take three years for both the states to fully vaccinate its population.
It is clarified that the news report is misleading as it takes in to account the average daily vaccination rate from the beginning of the COVID vaccination drive in order to show a low rate of vaccination and then further uses this number to claim that the states will take many years to complete the vaccination drive for its citizens.
Furthermore, using an average when the availability of vaccines was extremely low across the world (including India) and then extrapolating the low rate by comparing it with present data when the vaccine supply is expected to be very high, may also lead to vaccine hesitancy which is a global issue during vaccination.
In contrast to this, the vaccine availability and vaccination rate have been consistently improving across the country. It must also be kept in mind that Uttar Pradesh is India's largest state in terms of population. As per the 2011 census, the state has over 19.95 crore population. UP's population is higher than many counties including Brazil, Russia, Pakistan, Bangladesh, to name a few.
Details: https://pib.gov.in/PressReleseDetail.aspx?PRID=1740708
Expedite the development of COVID vaccine for children: Vice President urges scientific fraternity
Vaccination drive against COVID-19 should become pan-India 'Jan Andolan': Vice President

VP appeals to people to get vaccinated; says there is no room for vaccine hesitancy

VP urges media to educate masses on gains of vaccination

VP stresses the need to step up vaccine supplies and vaccinate all people

VP cautions people against becoming complacent by temporary decline in COVID-19 cases

VP advises leaders of various political parties and their followers to follow Covid-appropriate behaviour

Visits Bharat Biotech and lauds its scientists for developing an effective vaccine in a very short time frame
The Vice President, Shri M Venkaiah Naidu today urged the scientific fraternity to focus on expediting the development of COVID vaccine for children. He stressed that protecting children from the virus should be accorded priority.
Shri Naidu emphasized that the vaccination drive against COVID-19 should become a pan-India 'Jan Andolan' and appealed to the people to immunize themselves by taking the required doses of the vaccine.
Addressing scientists and staff of the Bharat Biotech International Limited after a visit to its plant at Genome Valley in Hyderabad, he said "there is no room for vaccine hesitancy". Urging everyone to get vaccinated, he said "there is no other more powerful way to protect ourselves and people around us".
Details: https://pib.gov.in/PressReleasePage.aspx?PRID=1740813
Union Health Minister digitally inaugurates Whole Genome Sequencing National Reference Laboratory for AMR and New BSL 3 Laboratory on occasion of 112th Annual Day of NCDC
The recent COVID-19 pandemic has highlighted the need of creating vigilance and awareness on Zoonotic Diseases. Accordingly, Division of Zoonotic Disease Programme at NCDC under the "National One health Programme for prevention and Control of Zoonoses" has created IEC materials (Print, Audio & Video) on 7 priority zoonotic diseases namely Rabies, Scrub Typhus, Brucellosis, Anthrax, CCHF, Nipah, Kyasanur Forest Disease in India. The Union Health Minister along with MoS(HFW) unveiled these today.
Details: https://pib.gov.in/PressReleseDetail.aspx?PRID=1740628
Union Health Ministry organises online workshop with Officials of PIB, BOC, DD, AIR and NHM from 5 South Indian states on Crisis Communication on COVID-19
Need to reinforce messages on COVID Appropriate Behaviour, Vaccine uptake and highlighting positive Ground stories stressed
The Ministry of Health and Family Welfare (MoHFW) in collaboration with UNICEF organised an online workshop today with the Officials of Press Information Bureau (PIB), Bureau of Outreach and Communication (BOC), Doordarshan (DD), Doordarshan News, All India Radio (AIR), AIR News and State Immunisation Officers and IEC (Information, Education and Communication) officers from National Health Mission from five South Indian states of Kerala, Karnataka, Tamil Nadu, Andhra Pradesh and Telangana on the need to reinforce messaging on COVID Appropriate Behaviour (CAB) and encourage vaccine uptake.
Details: https://pib.gov.in/PressReleseDetail.aspx?PRID=1740842
2.27 lakh Pregnant Women receive COVID-19 Vaccines in less than a month
Pregnant Women became eligible for COVID-19 Vaccination since 2nd July after NTAGI's recommendations
Trainings for all Health Workers across States and UTs have been completed regarding vaccination of pregnant women
In a significant development, over 2.27 lakh pregnant women have received first dose of COVID-19 vaccine under the ongoing National COVID Vaccination drive. This can be seen as a result of regular counseling of the pregnant women by health workers and medical officers about risks of COVD-19 infection to pregnant women and benefits of COVID-19 vaccination. This sustained campaign has empowered pregnant women to make an informed choice on taking the COVID vaccination.
Details: https://pib.gov.in/PressReleasePage.aspx?PRID=1740788
Important Tweets
त्रिपुरा के 196 गाँवों में शत प्रतिशत टीकाकरण पूरा हो गया है। इन क्षेत्रों में टीका लेने के पात्र सभी ग्रामीण लोगों को पहली खुराक दे दी गई है।

ग्रामवासियों एवं स्वास्थ्यकर्मियों ने सफल टीकाकरण अभियान के लिए PM @NarendraModi जी के प्रति धन्यवाद व्यक्त किया है। https://t.co/djAYX8ZLvC

— Mansukh Mandaviya (@mansukhmandviya) July 30, 2021
#Unite2FightCorona#LargestVaccineDrive

"India has followed a research-driven, science-driven and epidemiology based approach towards vaccination." – Sh. Lav Agarwal, Joint Secretary, Union Health Ministry, during an online discussion on improving vaccine equity. @PMOIndia pic.twitter.com/RE29jkQGZ1

— Ministry of Health (@MoHFW_INDIA) July 30, 2021
#Unite2FightCorona#LargestVaccineDrive @PMOIndia @mansukhmandviya @ianuragthakur @DrBharatippawar @PIB_India @mygovindia @COVIDNewsByMIB @ICMRDELHI @DDNewslive @airnewsalerts pic.twitter.com/AxmhHVtqGM

— Ministry of Health (@MoHFW_INDIA) July 30, 2021
#Unite2FightCorona pic.twitter.com/6VjsemFFjD

— Ministry of Health (@MoHFW_INDIA) July 30, 2021
A news report has published #Misleading headline & claimed that Biological E has been denied permission for its #COVID19 vaccine trials in children#PIBFactCheck: More data on safety & immunogenicity is asked for consideration of a further extension of their trials in children. pic.twitter.com/7oI5uSo9RI

— PIB Fact Check (@PIBFactCheck) July 30, 2021
.@DainikBhaskar ने यह दावा किया है कि आयुष मंत्रालय ने #कोविड19 के उपचार के लिए नेटवर्क ऑफ इन्फ्लुएंजा केअर एक्सपर्ट्स द्वारा विकसित प्रोटोकॉल की सलाह दी है।#PIBFactCheck:यह दावा भ्रामक है। आयुष मंत्रालय ने ऐसे किसी प्रोटोकॉल को मंजूरी नहीं दी है।

पढ़ें:https://t.co/BW3TMMC5Xm pic.twitter.com/a6cAQRMajd

— PIB Fact Check (@PIBFactCheck) July 29, 2021
A total of 8291 aids & assistive devices valued at Rs.4.32crore will be distributed free of cost to 4146 Divyangjan at Block/Panchayat levels by following the SOP prepared by the Department in view of #COVID19 Pandemic.

Read: https://t.co/POWi96W4in

— PIB India (@PIB_India) July 30, 2021
India's Cumulative #COVID19 Vaccination Coverage exceeds 45.60 Cr

▪️More than 51 Lakh vaccine doses administered in the last 24 hours

▪️Recovery Rate stands at 97.38%

▪️44,230Daily New Cases reported in last 24 hours

Read more: https://t.co/wwCv4dCNbR pic.twitter.com/xzG2uyeaVh

— PIB India (@PIB_India) July 30, 2021
#IndiaFightsCorona:#COVID19Vaccination Status (As on 30th July, 2021, 8:00 AM)

✅Total vaccine doses administered (so far): 45,60,33,754

✅Vaccine doses administered (in last 24 hours): 51,83,180#We4Vaccine #LargestVaccinationDrive@ICMRDELHI @DBTIndia pic.twitter.com/RbjikBLic3

— #IndiaFightsCorona (@COVIDNewsByMIB) July 30, 2021
📍𝑴𝒐𝒓𝒆 𝒕𝒉𝒂𝒏 51 𝒍𝒂𝒌𝒉 (51,83,180) 𝒗𝒂𝒄𝒄𝒊𝒏𝒆 𝒅𝒐𝒔𝒆𝒔 𝒂𝒅𝒎𝒊𝒏𝒊𝒔𝒕𝒆𝒓𝒆𝒅 𝒊𝒏 𝒕𝒉𝒆 𝒍𝒂𝒔𝒕 24 𝒉𝒐𝒖𝒓𝒔.

➡️Together we can win the battle against #COVID19.#We4Vaccine#LargestVaccinationDrive#Unite2FightCorona pic.twitter.com/Tfb1x6OBuX

— #IndiaFightsCorona (@COVIDNewsByMIB) July 30, 2021
📍More than 16.5 crore doses administered in first 39 days of the World's Largest Free-For-All Vaccination Drive launched on June 21, 2021. (As on July 30, 2021)

➡️ But this fight isn't over yet, strengthen the country's endeavour by getting #Vaccinated pic.twitter.com/Dp1HuyepM1

— #IndiaFightsCorona (@COVIDNewsByMIB) July 30, 2021
📍#𝑪𝑶𝑽𝑰𝑫19 𝑽𝒂𝒄𝒄𝒊𝒏𝒆 𝑫𝒐𝒔𝒆𝒔: 𝑨𝒈𝒆-𝒘𝒊𝒔𝒆 𝑫𝒊𝒔𝒕𝒓𝒊𝒃𝒖𝒕𝒊𝒐𝒏 (As on July 30th, 2021, till 10:00 AM)

✅ Above 60 years: 24.7%
✅ 45-60 years: 33.7%
✅ 18-44 years: 41.6%#We4Vaccine#LargestVaccinationDrive#Unite2FightCorona pic.twitter.com/FGypZTIiFu

— #IndiaFightsCorona (@COVIDNewsByMIB) July 30, 2021
📍Total #COVID19 Cases in India (as on July 30th, 2021)

▶97.38% Cured/Discharged/Migrated (3,07,43,972)
▶1.28% Active cases (4,05,155)
▶1.34% Deaths (4,23,217)

Total COVID-19 confirmed cases = Cured/Discharged/Migrated+Active cases+Deaths#StaySafe pic.twitter.com/IfIwvo4As5

— #IndiaFightsCorona (@COVIDNewsByMIB) July 30, 2021
Strengthening India's fight against #COVID19, this temple town is now fully #Vaccinated!

Remember, vaccines are our strongest weapon against #COVID19, help the country defeat the virus by taking the jab as soon as possible.

For more, visit: https://t.co/re1fmuMPbB pic.twitter.com/R4jV3pMETD

— MyGovIndia (@mygovindia) July 30, 2021
*********
MV/AS
(Release ID: 1740861)
Visitor Counter : 9