PIB Headquarters
PIB'S BULLETIN ON COVID-19
Posted On:
01 AUG 2021 7:32PM by PIB Delhi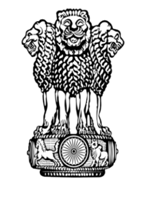 47.02 Cr. Vaccine Doses administered so far under Nationwide Vaccination Drive
3,08,20,521 total recoveries across the country so far
Recovery Rate currently at 97.36%
39,258 patients recovered during last 24 hours
India reports 41,831 new cases in last 24 hours
India's Active caseload currently 4,10,952
Active cases constitute 1.30% of total cases
Weekly Positivity Rate remains below 5%, currently at 2.42%
Daily positivity rate at 2.34%, remains below 5%
Testing capacity substantially ramped up – 46.82 crore tests conducted(Total)
#Unite2FightCorona#IndiaFightsCorona
PRESS INFORMATION BUREAU
MINISTRY OF INFORMATION & BROADCASTING
GOVERNMENT OF INDIA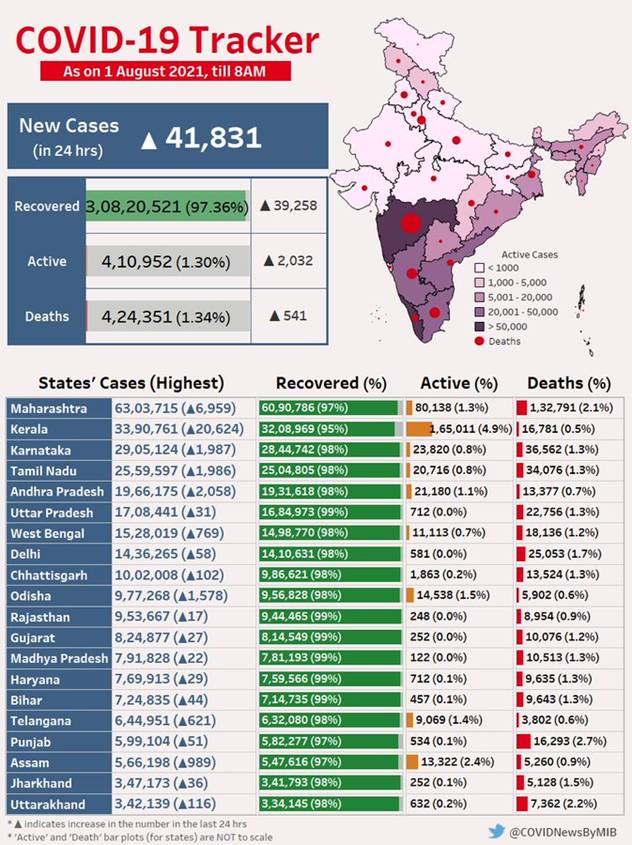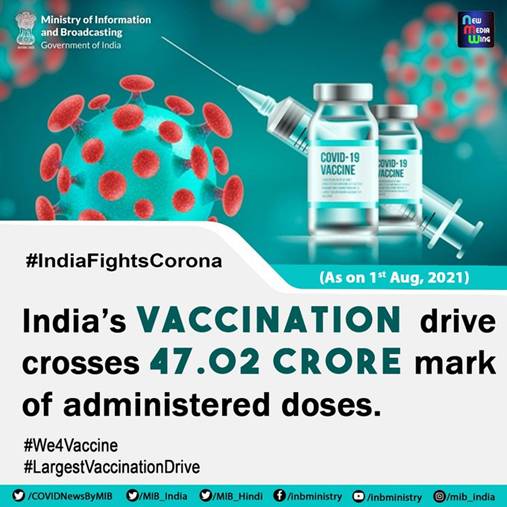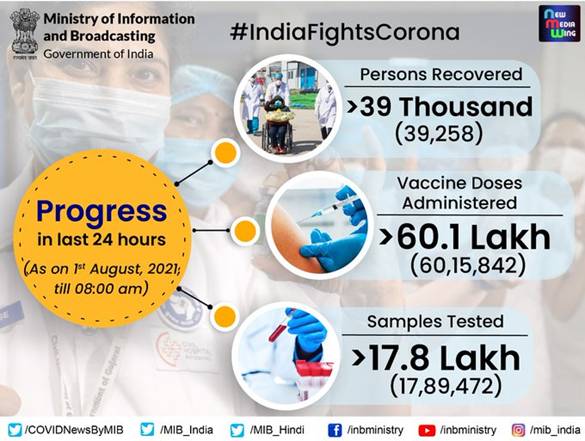 COVID-19 Update
India's Cumulative COVID-19 Vaccination Coverage crosses the landmark of 47 Cr
More than 60 Lakh vaccine doses administered in the last 24 hours
Recovery Rate stands at 97.36%
41,831Daily New Cases reported in last 24 hours
India's Active Caseload (4,10,952) presently constitutes 1.30% of total cases
Daily Positivity Rate (2.34%) less than 5% for 55 consecutive days
India's COVID-19 vaccination coveragecrossed the landmark of 47 Cr yesterday. Cumulatively,47,02,98,596 vaccine doses have been administered through 55,71,565sessions, as per the provisional report till 8 am today. 60,15,842 vaccine doses were administered in the last 24 hours.
These include:
HCWs

1st Dose

1,03,10,569

2nd Dose

78,48,198

FLWs

1st Dose

1,79,76,013

2nd Dose

1,13,28,258

Age Group 18-44 years

1st Dose

15,61,40,811

2nd Dose

86,68,370

Age Group 45-59 years

1st Dose

10,63,39,854

2nd Dose

3,91,28,126

Over 60 years

1st Dose

7,60,38,913

2nd Dose

3,65,19,484

Total

47,02,98,596
The new phase of universalization of COVID-19 vaccination has commenced from 21st June, 2021. The Union Government is committed to accelerating the pace and expanding the scope of COVID-19 vaccination throughout the country.
Out of the people infected since the beginning of the pandemic, 3,08,20,521 people have already recovered from COVID-19 and 39,258 patients have recovered in the last 24 hours. This constitutes an overall recovery rate of 97.36%.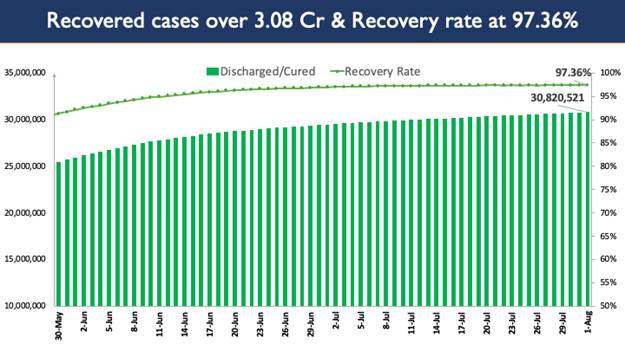 India has reported 41,831daily new cases in the last 24 hours.
Less than 50,000 Daily New Cases have been reported since thirty-five continuous days. This is a result of sustained and collaborative efforts by the Centre and the States/UTs.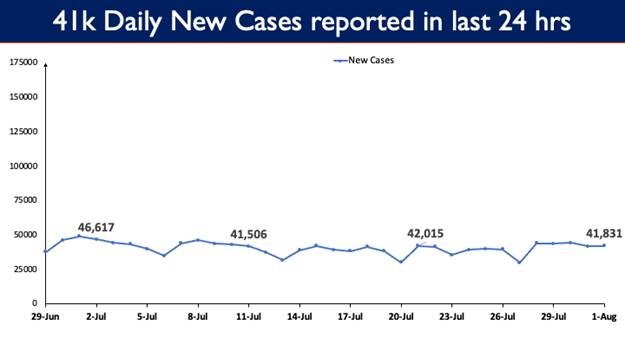 India's Active Caseload today stands at 4,10,952 and active cases now constitute 1.30% of the country's total Positive Cases.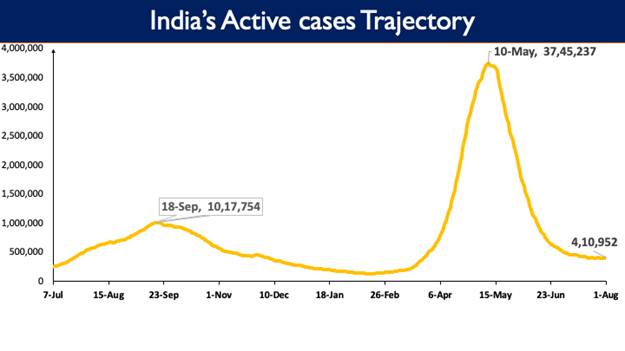 With substantially ramped up testing capacity across the country, a total of 17,89,472tests were conducted in the last 24 hours in the country. Cumulatively, India has conducted over 46.82 crore (46,82,16,510) tests so far.
While on one side testing capacity has been enhanced across the country, Weekly Positivity Rate is currently at 2.42% and the Daily Positivity rate stands at 2.34% today. Daily Positivity rate has remained below 5% for 55 consecutive days now.
Details: https://pib.gov.in/PressReleseDetail.aspx?PRID=1741200
COVID-19 Vaccination Update
More than 49.49 Crore vaccine doses provided to States/UTs
More than 3 Crore balance and unutilized doses still available with States/UTs and private hospitals to be administered
As part of the nationwide vaccination drive, Government of India has been supporting the States and UTs by providing them COVID Vaccines free of cost. In the new phase of the universalization of the COVID19 vaccination drive, the Union Government will procure and supply (free of cost) 75% of the vaccines being produced by the vaccine manufacturers in the country to States and UTs.
 

VACCINE DOSES

 

(As on 1 August 2021)

 

SUPPLIED

 

49,49,89,550

 

IN PIPELINE

 

8,04,220

 

CONSUMPTION

 

46,70,26,662

 

BALANCE AVAILABLE

 

 

3,00,58,190
More than 49.49 crore (49,49,89,550) vaccine doses have been provided to States/UTs so far, through all sources and a further 8,04,220 doses are in the pipeline.
Of this, the total consumption including wastages is 46,70,26,662 doses (as per data available at 8 AM today).
More than 3 Cr (3,00,58,190) balance and unutilized COVID Vaccine doses are still available with the States/UTs and private hospitals to be administered.
Details: https://pib.gov.in/PressReleseDetail.aspx?PRID=1741203
Important Tweets
In Banaras Loco Works, GM/BLW along with Healthline workers flagged off 100th Loco of FY 2021-22.

This loco was dedicated to medical team for their contribution against COVID-19 and appreciated the efforts of workshop team for continuing the production despite COVID-19. pic.twitter.com/rfQjVJF4Hp

— Ministry of Railways (@RailMinIndia) August 1, 2021
We are together in our collective fight against Covid-19 @PemaKhanduBJP Ji.

I am very happy that this contribution of 1000 cylinders for the people of Arunachal Pradesh by @OilIndiaLimited will further strengthen your efforts. https://t.co/NEISLcBIEo

— Hardeep Singh Puri (@HardeepSPuri) July 31, 2021
📍𝑴𝒐𝒓𝒆 𝒕𝒉𝒂𝒏 164 𝑴𝒊𝒍𝒍𝒊𝒐𝒏 𝒗𝒂𝒄𝒄𝒊𝒏𝒆 𝒅𝒐𝒔𝒆𝒔 𝒂𝒅𝒎𝒊𝒏𝒊𝒔𝒕𝒆𝒓𝒆𝒅 𝒕𝒐 18-44 𝒚𝒆𝒂𝒓𝒔 𝒂𝒈𝒆 𝒈𝒓𝒐𝒖𝒑 𝒖𝒏𝒅𝒆𝒓 𝒕𝒉𝒆 #𝑳𝒂𝒓𝒈𝒆𝒔𝒕𝑽𝒂𝒄𝒄𝒊𝒏𝒂𝒕𝒊𝒐𝒏𝑫𝒓𝒊𝒗𝒆. (As on 1 August, 2021, 8 AM)#We4Vaccine#VaccinationForAll pic.twitter.com/2BRZ5ylFzk

— #IndiaFightsCorona (@COVIDNewsByMIB) August 1, 2021
State-wise details of Total Confirmed #COVID19 cases (till 1 August, 2021, 8 AM)

➡️States with 1-100000 confirmed cases
➡️States with 100001-800000 confirmed cases
➡️States with 800000+ confirmed cases
➡️Total no. of confirmed cases so far#StaySafe pic.twitter.com/rZc6Qzge3l

— #IndiaFightsCorona (@COVIDNewsByMIB) August 1, 2021
#IndiaFightsCorona:#COVID19Vaccination Status (As on 1st August, 2021, 8:00 AM)

✅Total vaccine doses administered (so far): 47,02,98,596

✅Vaccine doses administered (in last 24 hours): 60,15,842#We4Vaccine #LargestVaccinationDrive@ICMRDELHI @DBTIndia pic.twitter.com/p7CHxYUdEs

— #IndiaFightsCorona (@COVIDNewsByMIB) August 1, 2021
📍More than 17.7 crore doses administered in first 41 days of the World's Largest Free-For-All Vaccination Drive launched on June 21, 2021. (As on August 1, 2021)

➡️ But this fight isn't over yet, strengthen the country's endeavour by getting #Vaccinated pic.twitter.com/2wk4JZT1L1

— #IndiaFightsCorona (@COVIDNewsByMIB) August 1, 2021
📍#𝑪𝑶𝑽𝑰𝑫19 𝑽𝒂𝒄𝒄𝒊𝒏𝒆 𝑫𝒐𝒔𝒆𝒔: 𝑨𝒈𝒆-𝒘𝒊𝒔𝒆 𝑫𝒊𝒔𝒕𝒓𝒊𝒃𝒖𝒕𝒊𝒐𝒏 (As on August 1st, 2021, till 09:00 AM)

✅ Above 60 years: 24.4%
✅ 45-60 years: 33.5%
✅ 18-44 years: 42.1%#We4Vaccine#LargestVaccinationDrive#Unite2FightCorona pic.twitter.com/txxGgKu34e

— #IndiaFightsCorona (@COVIDNewsByMIB) August 1, 2021
📍Total #COVID19 Cases in India (as on August 1st, 2021)

▶97.36% Cured/Discharged/Migrated (3,08,20,521)
▶1.30% Active cases (4,10,952)
▶1.34% Deaths (4,24,351)

Total COVID-19 confirmed cases = Cured/Discharged/Migrated+Active cases+Deaths#StaySafe pic.twitter.com/q459HdfIJ0

— #IndiaFightsCorona (@COVIDNewsByMIB) August 1, 2021
Uttar Pradesh Chief Minister Yogi Adityanath provides financial help of Rs 5.5 crore to the families of those Journalists who lost their lives in the second wave of #COVID in the state.

Family of each journalist was provided a financial help of Rs 10 lakh. pic.twitter.com/pjpGrW8Wkq

— All India Radio News (@airnewsalerts) July 31, 2021
Here are some tips you can follow to ensure the Mental Health of Elderly people during the COVID-19 pandemic. #IndiaFightsCorona #Unite2FightCorona pic.twitter.com/GZH42r5IBs

— MyGovIndia (@mygovindia) August 1, 2021
COVID-19 Testing Update. For more details visit: https://t.co/dI1pqvXAsZ @MoHFW_INDIA @DeptHealthRes @PIB_India @mygovindia @COVIDNewsByMIB #ICMRFIGHTSCOVID19 #IndiaFightsCOVID19 #CoronaUpdatesInIndia #COVID19 #Unite2FightCorona pic.twitter.com/UJsJ81bJm4

— ICMR (@ICMRDELHI) August 1, 2021
Delhi #zoo reopened its gates to the public today, more than two months since it was shut during the second wave of the pandemic.

— All India Radio News (@airnewsalerts) August 1, 2021
Japanese govt declares a state of emergency in 6 areas, including the capital city of #Tokyo, after seeing a record spike in #coronavirus cases.

The emergency measures will be applicable until August 31 in Tokyo, Saitama, Chiba, Kanagawa, Osaka, and Okinawa Prefectures.

— All India Radio News (@airnewsalerts) August 1, 2021
*********
MV/AS
(Release ID: 1741298)
Visitor Counter : 4