PIB Headquarters
PIB'S BULLETIN ON COVID-19
Posted On:
05 AUG 2021 7:51PM by PIB Delhi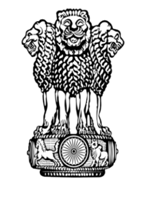 Over 49 Crore Vaccine Doses administered so far under the Nationwide Vaccination Drive
3,09,74,748 total recoveries across the country so far
Recovery Rate currently at 97.37%
41,726 patients recovered during last 24 hours
India reports 42,982 new cases in last 24 hours
India's Active caseload currently 4,11,076
Active cases constitute 1.29% of total cases
Weekly Positivity Rate remains below 5%, currently at 2.37%
Daily positivity rate at 2.58%; less than 3% for last 10 days
Testing capacity substantially ramped up – 47.48 crore tests conducted(In Total)
#Unite2FightCorona#IndiaFightsCorona
PRESS INFORMATION BUREAU
MINISTRY OF INFORMATION & BROADCASTING
GOVERNMENT OF INDIA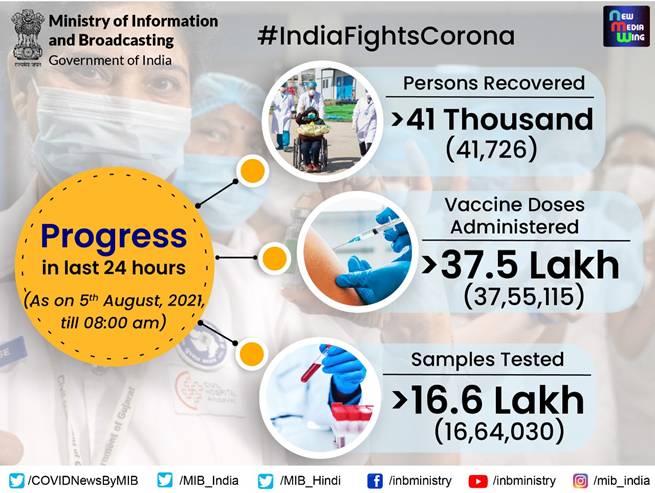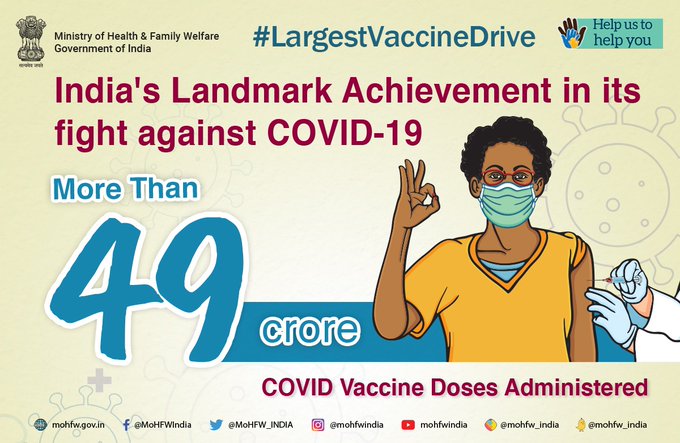 COVID-19 Update
India's Cumulative COVID-19 Vaccination Coverage exceeds 48.93 Cr
Recovery Rate currently at 97.37%
42,982 Daily New Cases reported in last 24 hours
India's Active Caseload (4,11,076) presently constitutes 1.29% of total cases
Daily Positivity Rate (2.58%) less than 3% for last 10 days
India's COVID-19 vaccination coveragehas exceeded 48.93 Cr. Cumulatively, 48,93,42,295 vaccine doses have been administered through 57,21,937 sessions, as per the provisional report till 7 am today. 37,55,115 vaccine doses were administered in the last 24 hours.
These include:
HCWs

1st Dose

1,03,21,218

2nd Dose

79,16,997

FLWs

1st Dose

1,80,12,481

2nd Dose

1,15,34,779

Age Group 18-44 years

1st Dose

16,64,37,738

2nd Dose

1,02,76,584

Age Group 45-59 years

1st Dose

10,90,91,506

2nd Dose

4,09,44,600

Over 60 years

1st Dose

7,72,63,332

2nd Dose

3,75,43,060

Total

48,93,42,295
The new phase of universalization of COVID-19 vaccination has commenced from 21st June, 2021. The Union Government is committed to accelerating the pace and expanding the scope of COVID-19 vaccination throughout the country.
Out of the people infected since the beginning of the pandemic, 3,09,74,748 people have already recovered from COVID-19 and 41,726 patients have recovered in the last 24 hours. This constitutes an overall recovery rate of 97.37%.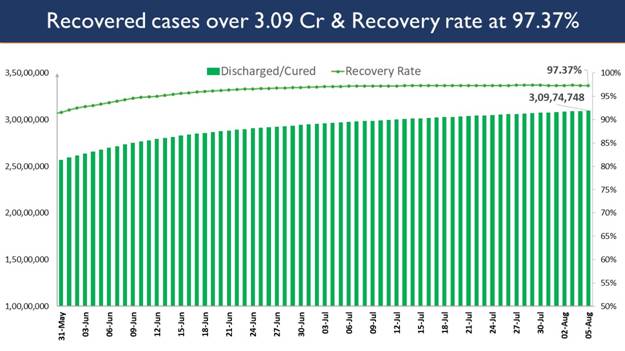 India has reported 42,982 daily new cases in the last 24 hours.
Less than 50,000 Daily New Cases have been reported since thirty-nine consecutive days. This is a result of sustained and collaborative efforts by the Centre and the States/UTs.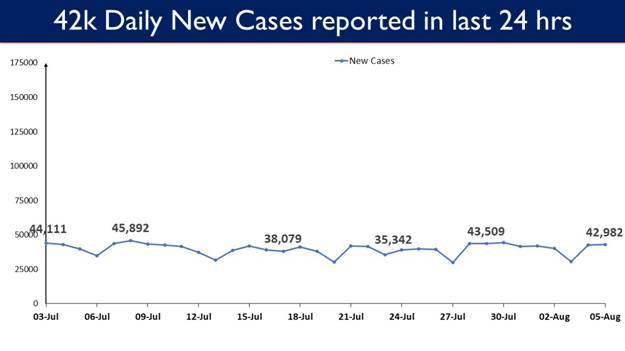 India's Active Caseload today stands at 4,11,076 and active cases now constitute 1.29% of the country's total Positive Cases.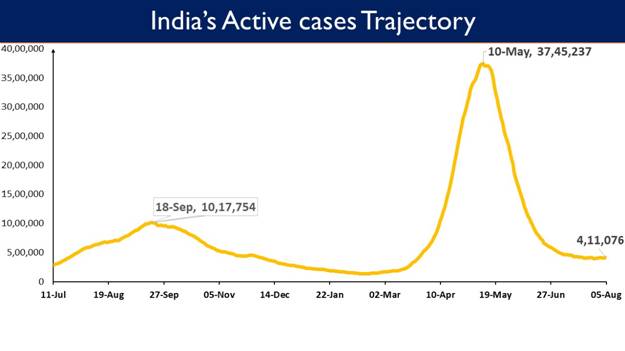 With substantially ramped up testing capacity across the country, a total of 16,64,030 tests were conducted in the last 24 hours in the country. Cumulatively, India has conducted over 47.48 crore (47,48,93,363) tests so far.
While on one side testing capacity has been enhanced across the country, Weekly Positivity Rate is currentlyat 2.37% and the Daily Positivity rate stands at 2.58% today. Daily Positivity rate has remained below 5% for 59 consecutive days now.
Details: https://pib.gov.in/PressReleasePage.aspx?PRID=1742599
COVID-19 Vaccination Update
More than 51.01 Crore vaccine doses provided to States/UTs
More than 2.69 Crore balance and unutilized doses still available with States/UTs and private hospitals to be administered
As part of the nationwide vaccination drive, Government of India has been supporting the States and UTs by providing them COVID Vaccines free of cost. In the new phase of the universalization of the COVID19 vaccination drive, the Union Government will procure and supply (free of cost) 75% of the vaccines being produced by the vaccine manufacturers in the country to States and UTs.
 

VACCINE DOSES

 

(As on 5 August 2021)

 

SUPPLIED

 

51,01,88,510

 

IN PIPELINE

 

7,53,620

 

CONSUMPTION

 

48,60,15,232

 

BALANCE AVAILABLE

 

 

2,69,06,624
More than 51.01 crore (51,01,88,510) vaccine doses have been provided to States/UTs so far, through all sources and a further 7,53,620 doses are in the pipeline.
Of this, the total consumption including wastages is 48,60,15,232 doses (as per data available at 8 AM today).
More than 2.69 Cr (2,69,06,624) balance and unutilized COVID Vaccine doses are still available with the States/UTs and private hospitals to be administered.
Details: https://pib.gov.in/PressReleasePage.aspx?PRID=1742597
PM interacts with beneficiaries of Pradhan Mantri Garib Kalyan Anna Yojana in Uttar Pradesh
August 5 is becoming a significant date in the Indian History as abrogation of 370, and Ram Mandir are associated with this: PM
Our youth has taken a big step in re-establishing the glory of our national game hockey today: PM
Our youth is scoring goal of victory whereas some are doing self-goal due to political selfishness: PM
India's youth has firm belief that both they and India are on the move.: PM
This great country cannot become hostage to selfish and anti-national politics: PM
Double engine government has ensured that the schemes made for the poor, downtrodden, backward, tribals are implemented expeditiously in UP: PM
Uttar Pradesh was always seen through the prism of politics. The confidence that UP can become the powerhouse of India's growth engine has emerged in recent years: PM
This decade is the decade of making up for the shortfall of the last 7 decades for Uttar Pradesh: PM
The Prime Minister, Shri Narendra Modi interacted with beneficiaries of Pradhan Mantri Garib Kalyan Anna Yojana in Uttar Pradesh via video conference. Chief Minister of Uttar Pradesh Shri Yogi Adityanath was also present on the occasion.
Talking about the pandemic, the Prime Minister noted that in the past, when such a big crisis hit the country, then all the systems of the country were shaken badly. However, today in India, every citizen is fighting this pandemic with full force. The Prime Minister dwelled at length on the efforts to deal with the once in a century crisis. Augmentation of medical infrastructure, world's largest free vaccination programme, campaign to fight starvation among the vulnerable section, such programmes received investment of lakhs of crore rupees and India is moving ahead successfully.  Infrastructure products did not stop amidst the pandemic as exemplified by the highway, expressway projects, dedicated freight corridor and defence corridor in Uttar Pradesh.
Details: https://pib.gov.in/PressReleasePage.aspx?PRID=1742742
Link to text of PMs speech: https://pib.gov.in/PressReleasePage.aspx?PRID=1742781
Important Tweets
Addressed the 11th EAS Foreign Ministers Meeting today.

Highlighted the growing convergence of approaches on Indo-Pacific among different members. pic.twitter.com/iPsdxojbt5

— Dr. S. Jaishankar (@DrSJaishankar) August 4, 2021
एक न्यूज़ आर्टिकल में दावा किया जा रहा है कि युवाओं को कोरोना वैक्सीन बताकर एंटी-फर्टिलिटी का टीका लगाया जाएगा।#PIBFactCheck

▶️यह दावा #फर्जी है।

▶️#COVID19 वैक्सीन पूरी तरह से सुरक्षित और प्रभावी है।

▶️वैक्सीन से संबंधित अफवाहों पर ध्यान न दें और टीकाकरण अवश्य कराएं। pic.twitter.com/mhm0EN9JYE

— PIB Fact Check (@PIBFactCheck) August 5, 2021
State-wise details of Total Confirmed #COVID19 cases (till 5 August, 2021, 8 AM)

➡️States with 1-100000 confirmed cases
➡️States with 100001-800000 confirmed cases
➡️States with 800000+ confirmed cases
➡️Total no. of confirmed cases so far#StaySafe pic.twitter.com/uECElx6mnr

— #IndiaFightsCorona (@COVIDNewsByMIB) August 5, 2021
📍#𝑪𝑶𝑽𝑰𝑫19 𝑽𝒂𝒄𝒄𝒊𝒏𝒆 𝑫𝒐𝒔𝒆𝒔: 𝑨𝒈𝒆-𝒘𝒊𝒔𝒆 𝑫𝒊𝒔𝒕𝒓𝒊𝒃𝒖𝒕𝒊𝒐𝒏 (As on August 5th, 2021, till 09:00 AM)

✅ Above 60 years: 23.9%
✅ 45-60 years: 33.1%
✅ 18-44 years: 43%#We4Vaccine#LargestVaccinationDrive#Unite2FightCorona pic.twitter.com/eHkXYhcXNn

— #IndiaFightsCorona (@COVIDNewsByMIB) August 5, 2021
📍Total #COVID19 Cases in India (as on August 5th, 2021)

▶97.37% Cured/Discharged/Migrated (3,09,74,748)
▶1.29% Active cases (4,11,076)
▶1.34% Deaths (4,26,290)

Total COVID-19 confirmed cases = Cured/Discharged/Migrated+Active cases+Deaths#StaySafe pic.twitter.com/eluvRBl4nE

— #IndiaFightsCorona (@COVIDNewsByMIB) August 5, 2021
📍More than 19.5 crore doses administered in first 45 days of the World's Largest Free-For-All Vaccination Drive launched on June 21, 2021. (As on August 5, 2021)

➡️ But this fight isn't over yet, strengthen the country's endeavour by getting #Vaccinated pic.twitter.com/FFOOVOjfUo

— #IndiaFightsCorona (@COVIDNewsByMIB) August 5, 2021
📍Common #COVID19 Symptoms👇

➡️Dry cough
➡️Fever
➡️Chills
➡️Loss of smell or taste
➡️Sore throat

If you experience any of these symptoms, immediately begin #COVID19 self-care measures & get yourself tested.#StaySafe #Unite2FightCorona pic.twitter.com/74nZcFjHBu

— #IndiaFightsCorona (@COVIDNewsByMIB) August 5, 2021
📍How to monitor & report #COVID19Vaccine side effects❓❓

☑️ Have a look👇#We4Vaccine #LargestVaccinationDrive #Unite2FightCorona pic.twitter.com/3IedKgbB8O

— #IndiaFightsCorona (@COVIDNewsByMIB) August 5, 2021
📍गर्भवती महिलाओं के लिए कोविड–19 वैक्सीन लगवाने की सलाह क्यों दी जा रही है❓❓❓

✅गर्भावस्था से कोविड–19 संक्रमण का खतरा नहीं बढ़ता है।#Unite2FightCorona #StaySafeStayHealthy pic.twitter.com/EGAKhJ96Yd

— #IndiaFightsCorona (@COVIDNewsByMIB) August 5, 2021
Bharat Biotech's COVAXIN has received a certificate of Good Manufacturing Practices from Hungary. With this, Bharat Biotech has achieved significant milestone in innovating & manufacturing vaccines at Global quality standards #COVID19 pic.twitter.com/REvEj6HoZ6

— DD News (@DDNewslive) August 5, 2021
COVID-19 Testing Update. For more details visit: https://t.co/dI1pqvXAsZ @MoHFW_INDIA @DeptHealthRes @PIB_India @mygovindia @COVIDNewsByMIB #ICMRFIGHTSCOVID19 #IndiaFightsCOVID19 #CoronaUpdatesInIndia #COVID19 #Unite2FightCorona pic.twitter.com/8asg82McZK

— ICMR (@ICMRDELHI) August 5, 2021
Health Minister @mansukhmandviya holds a meeting with the Chairman of Dr. Reddy's Lab, Dr Satish Reddy in New Delhi. Health Minister says, he held a discussion on the production of the #SputnikV COVID vaccine and its supply. pic.twitter.com/VXwGRCy8jk

— All India Radio News (@airnewsalerts) August 5, 2021
*********
MV/AS
(Release ID: 1742905)
Visitor Counter : 16