PIB Headquarters
PIB'S BULLETIN ON COVID-19
Posted On:
08 AUG 2021 5:44PM by PIB Delhi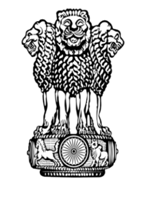 50.68 Cr. vaccine doses have been administered so far under Nationwide Vaccination Drive
3,10,99,771 total recoveries across the country so far
Recovery Rate currently at 97.39%
43,910 patients recovered during last 24 hours
India reports 39,070 new cases in last 24 hours
India's Active caseload currently 4,06,822
Active cases constitute 1.27% of total cases
Weekly Positivity Rate remains below 5%, currently at 2.38%
Daily positivity rate at 2.27%; less than 3% for last 13 days
Testing capacity substantially ramped up – 48.00 crore tests conducted(In Total)
#Unite2FightCorona#IndiaFightsCorona
PRESS INFORMATION BUREAU
MINISTRY OF INFORMATION & BROADCASTING
GOVERNMENT OF INDIA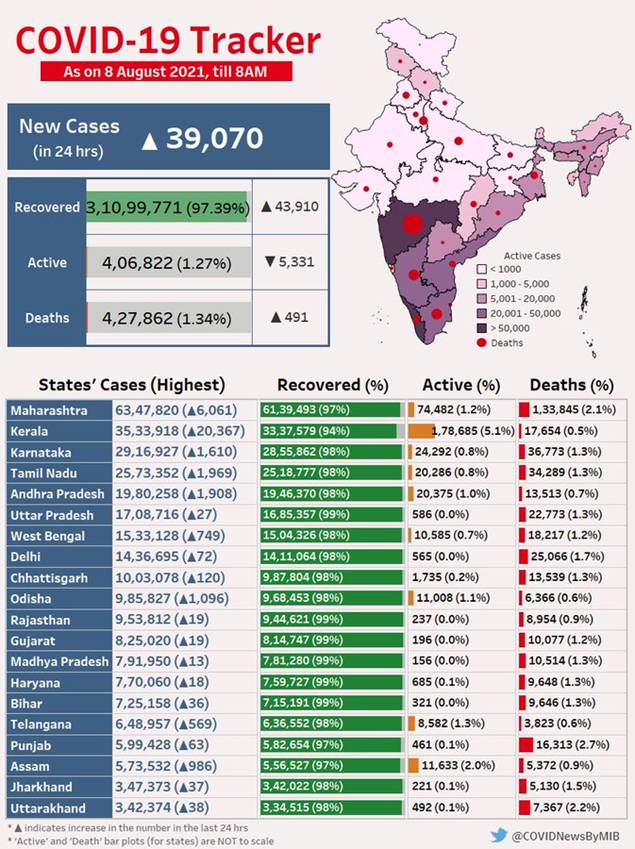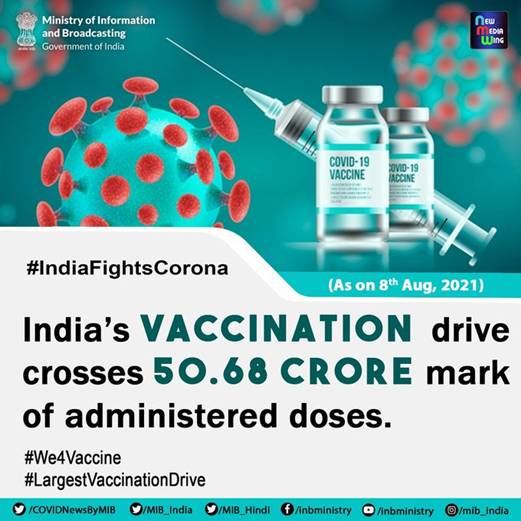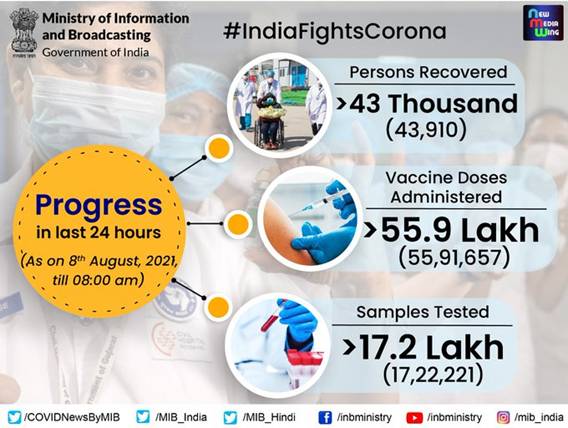 COVID-19 Update
India's Cumulative COVID-19 Vaccination Coverage crosses 50.68 Cr
Nearly 56 Lakh vaccine doses administered in last 24 hours
Recovery Rate currently stands at 97.39%
39,070 Daily New Cases reported in last 24 hours
dia's Active Caseload (4,06,822) presently constitutes 1.27% of total cas
Daily Positivity Rate (2.27%) less than 3% for last 13 days
India's COVID-19 vaccination coverage has crossed 50.68 Cr. Cumulatively, 50,68,10,492 vaccine doses have been administered through 58,51,292 sessions, as per the provisional report till 7 am today. 55,91,657 vaccine doses were administered in the last 24 hours.
These include:
HCWs

1st Dose

1,03,32,085

2nd Dose

79,74,385

FLWs

1st Dose

1,82,15,157

2nd Dose

1,17,33,363

Age Group 18-44 years

1st Dose

17,58,22,657

2nd Dose

1,18,44,743

Age Group 45-59 years

1st Dose

11,16,30,145

2nd Dose

4,24,75,061

Over 60 years

1st Dose

7,83,78,107

2nd Dose

3,84,04,789

Total

50,68,10,492
The new phase of universalization of COVID-19 vaccination has commenced from 21st June, 2021. The Union Government is committed to accelerating the pace and expanding the scope of COVID-19 vaccination throughout the country.
Out of the people infected since the beginning of the pandemic, 3,10,99,771 people have already recovered from COVID-19 and 43,910 patients have recovered in the last 24 hours. This constitutes an overall recovery rate of 97.39%.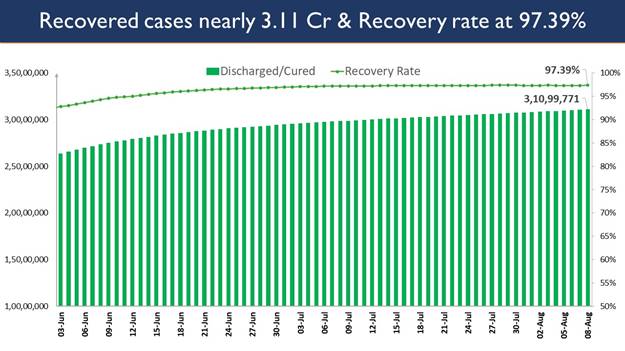 India has reported 39,070 daily new cases in the last 24 hours.
Less than 50,000 Daily New Cases have been reported since forty-two consecutive days. This is a result of sustained and collaborative efforts by the Centre and the States/UTs.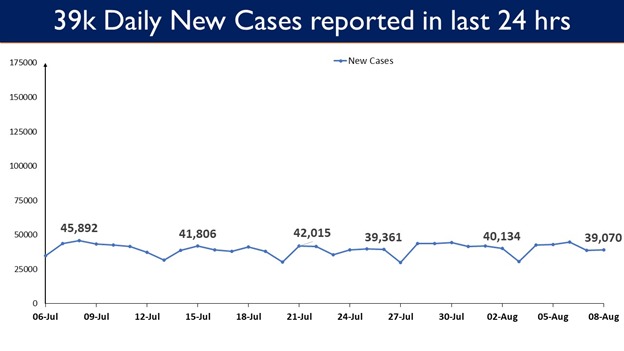 India's Active Caseload today stands at 4,06,822 and active cases now constitute 1.27% of the country's total Positive Cases.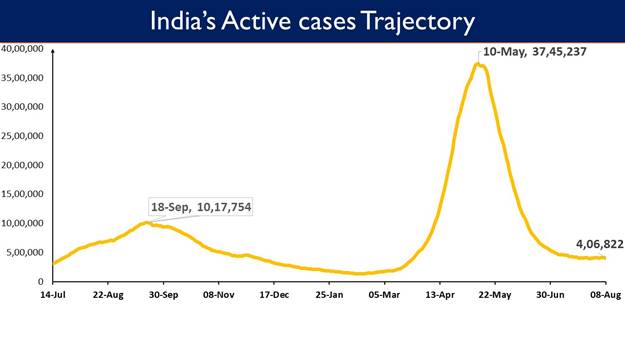 With substantially ramped up testing capacity across the country, a total of 17,22,221 tests were conducted in the last 24 hours in the country. Cumulatively, India has conducted over 48 crore (48,00,39,185) tests so far.
While on one side testing capacity has been enhanced across the country, Weekly Positivity Rate currently stands at 2.38% and the Daily Positivity rate stands at 2.27% today. Daily Positivity rate remains below 3% for last 13 days and below 5% for 62 consecutive days now.
Details: https://pib.gov.in/PressReleasePage.aspx?PRID=1743740
COVID-19 Vaccination Update
More than 52.37 Crore vaccine doses provided to States/UTs
More than 2.42 Crore balance and unutilized doses still available with States/UTs and private hospitals to be administered
As part of the nationwide vaccination drive, Government of India has been supporting the States and UTs by providing them COVID Vaccines free of cost. In the new phase of the universalization of the COVID19 vaccination drive, the Union Government will procure and supply (free of cost) 75% of the vaccines being produced by the vaccine manufacturers in the country to States and UTs.
 

VACCINE DOSES

 

(As on 8 August 2021)

 

SUPPLIED

 

52,37,50,890

 

IN PIPELINE

 

8,99,260

 

CONSUMPTION

 

50,32,77,942

 

BALANCE AVAILABLE

 

 

2,42,87,160
More than 52.37 crore (52,37,50,890) vaccine doses have been provided to States/UTs so far, through all sources and a further 8,99,260 doses are in the pipeline.
Of this, the total consumption including wastages is 50,32,77,942 doses (as per data available at 8 AM today).
More than 2.42 Cr (2,42,87,160) balance and unutilized COVID Vaccine doses are still available with the States/UTs and private hospitals to be administered.
Details: https://pib.gov.in/PressReleasePage.aspx?PRID=1743756
Ayush Minister assure all help in establishing the world's first Bio Bank of Ayurveda at AIIA
Union Ayush Minister Shri SarbanandaSonowal and MoS for Ayush, Dr. MunjaparaMahendrabhai visited All India Institute of Ayurveda on Sunday and inaugurated Multi-Purpose Yoga Hall & Mini Auditorium.  Both the Ministers highly appreciated the work done by AIIA and assured their full-fledged support for further development of the Institute to make it world's best Ayurveda Institute.  Lauding the futuristic plan of the Institute, Shri SarbanandaSonowal assured all help for establishing the first Bio-Bank of the world in Ayurveda at AIIA. 
The Minsters were shown a short film on AIIA, focused on scientific clinical studies during COVID times. They expressed satisfaction over the activities of the Institute and COVID Health Centre and COVID Testing Centre.
Details: https://pib.gov.in/PressReleasePage.aspx?PRID=1743812
Important Tweets
During her two-day tour of Andhra Pradesh, Smt @nsitharaman visited the Urban Health Center at Chinna Waltair in Visakhapatnam & inspected the Govt COVID vaccination facilities. As of 08 Aug, 2.36 crore people in the state have received at least one dose of the COVID-19 vaccine. pic.twitter.com/ENEv56q6KT

— NSitharamanOffice (@nsitharamanoffc) August 8, 2021
State-wise details of Total Confirmed #COVID19 cases (till 8 August, 2021, 8 AM)

➡️States with 1-100000 confirmed cases
➡️States with 100001-800000 confirmed cases
➡️States with 800000+ confirmed cases
➡️Total no. of confirmed cases so far#StaySafe pic.twitter.com/N3YtpwVPWV

— #IndiaFightsCorona (@COVIDNewsByMIB) August 8, 2021
📍Total #COVID19 Cases in India (as on August 8th, 2021)

▶97.39% Cured/Discharged/Migrated (3,10,99,771)
▶1.27% Active cases (4,06,822)
▶1.34% Deaths (4,27,862)

Total COVID-19 confirmed cases = Cured/Discharged/Migrated+Active cases+Deaths#StaySafe pic.twitter.com/qhovDlrbfp

— #IndiaFightsCorona (@COVIDNewsByMIB) August 8, 2021
📍Daily New Cases vis-à-vis Daily Samples Tested (As on 08th August, 2021, Till 8:00 AM)

☑️#StaySafe and follow #COVIDAppropriateBehaviour #Unite2FightCorona #StayHomeStaySafe pic.twitter.com/6odmn8PggZ

— #IndiaFightsCorona (@COVIDNewsByMIB) August 8, 2021
📍More than 21.1 crore doses administered in first 48 days of the World's Largest Free-For-All Vaccination Drive launched on June 21, 2021. (As on August 8, 2021)

➡️ But this fight isn't over yet, strengthen the country's endeavour by getting #Vaccinated pic.twitter.com/zcj1QusV16

— #IndiaFightsCorona (@COVIDNewsByMIB) August 8, 2021
#IndiaFightsCorona:#COVID19Vaccination Status (As on 08th August, 2021, 8:00 AM)

✅Total vaccine doses administered (so far): 50,68,10,492

✅Vaccine doses administered (in last 24 hours): 55,91,657#We4Vaccine #LargestVaccinationDrive@ICMRDELHI @DBTIndia pic.twitter.com/TfWEg0YL6F

— #IndiaFightsCorona (@COVIDNewsByMIB) August 8, 2021
#CoronaVirusUpdates:#COVID19 testing status update:@ICMRDELHI stated that 48,00,39,185 samples tested upto August 7, 2021

17,22,221 samples tested on August 7, 2021#IndiaFightsCorona #Unite2FightCorona #StaySafe @DBTIndia pic.twitter.com/7WzUmhRDJb

— #IndiaFightsCorona (@COVIDNewsByMIB) August 8, 2021
📍#𝑪𝑶𝑽𝑰𝑫19 𝑽𝒂𝒄𝒄𝒊𝒏𝒆 𝑫𝒐𝒔𝒆𝒔: 𝑨𝒈𝒆-𝒘𝒊𝒔𝒆 𝑫𝒊𝒔𝒕𝒓𝒊𝒃𝒖𝒕𝒊𝒐𝒏 (As on August 8th, 2021, till 10:00 AM)

✅ Above 60 years: 23.5%
✅ 45-60 years: 32.8%
✅ 18-44 years: 43.7%#We4Vaccine#LargestVaccinationDrive#Unite2FightCorona pic.twitter.com/RwOcCJZlKy

— #IndiaFightsCorona (@COVIDNewsByMIB) August 8, 2021
*********
MV/AS
(Release ID: 1743830)
Visitor Counter : 17