PIB Headquarters
PIB'S BULLETIN ON COVID-19
Posted On:
10 AUG 2021 7:31PM by PIB Delhi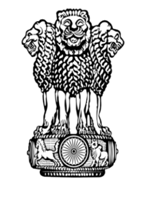 India reports 28,204 new cases in last 24 hours; lowest in 147 days
India's Active caseload currently 3,88,508; lowest in 139 days
Active cases constitute 1.21% of total cases; lowest since Mar 2020
Highest ever Recovery Rate achieved; currently at 97.45%
3,11,80,968 total recoveries across the country so far
41,511 patients recovered during last 24 hours
51.45 Cr. vaccine doses have been administered so far under Nationwide Vaccination Drive
Weekly Positivity Rate remainsbelow 5%, currently at 2.36%
Daily positivity rate at 1.87%; less than 3% for last 15 days
Testing capacity substantially ramped up – 48.32 crore tests conducted(Total)
#Unite2FightCorona#IndiaFightsCorona
PRESS INFORMATION BUREAU
MINISTRY OF INFORMATION & BROADCASTING
GOVERNMENT OF INDIA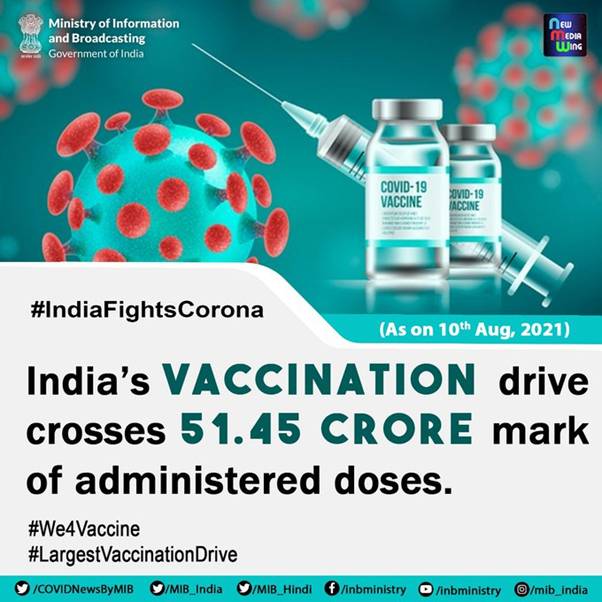 COVID-19 Vaccination Update
More than 52.56 Crore vaccine doses provided to States/UTs
More than 2.07 Crore balance and unutilized doses still available with States/UTs and private hospitals to be administered
As part of the nationwide vaccination drive, Government of India has been supporting the States and UTs by providing them COVID Vaccines free of cost. In the new phase of the universalization of the COVID19 vaccination drive, the Union Government will procure and supply (free of cost) 75% of the vaccines being produced by the vaccine manufacturers in the country to States and UTs.
 

VACCINE DOSES

 

(As on 10 August 2021)

 

SUPPLIED

 

52,56,35,710

 

IN PIPELINE

 

48,43,100

 

CONSUMPTION

 

51,09,58,562

 

BALANCE AVAILABLE

 

 

2,07,55,852
More than 52.56 crore (52,56,35,710) vaccine doses have been provided to States/UTs so far, through all sources and a further 48,43,100 doses are in the pipeline.
Of this, the total consumption including wastages is 51,09,58,562 doses (as per data available at 8 AM today).
More than 2.07 Cr (2,07,55,852) balance and unutilized COVID Vaccine doses are still available with the States/UTs and private hospitals to be administered.
Details: https://pib.gov.in/PressReleasePage.aspx?PRID=1744293
Important Tweets
WATCH LIVE📡

Press briefing on the actions taken, preparedness and updates on #COVID19https://t.co/wojlmrEKoY

— #IndiaFightsCorona (@COVIDNewsByMIB) August 10, 2021
#IndiaFightsCorona:#COVID19Vaccination Status (As on 10th August, 2021, 8:00 AM)

✅Total vaccine doses administered (so far): 51,45,00,268

✅Vaccine doses administered (in last 24 hours): 54,91,647#We4Vaccine #LargestVaccinationDrive@ICMRDELHI @DBTIndia pic.twitter.com/qSlZo3iizA

— #IndiaFightsCorona (@COVIDNewsByMIB) August 10, 2021
📍More than 21.8 crore doses administered in first 50 days of the World's Largest Free-For-All Vaccination Drive launched on June 21, 2021. (As on August 10, 2021)

➡️ But this fight isn't over yet, strengthen the country's endeavour by getting #Vaccinated pic.twitter.com/RSIRW6bZC0

— #IndiaFightsCorona (@COVIDNewsByMIB) August 10, 2021
📍Daily New Cases vis-à-vis Daily Samples Tested (As on 10th August, 2021, Till 8:00 AM)

☑️#StaySafe and follow #COVIDAppropriateBehaviour #Unite2FightCorona #StayHomeStaySafe pic.twitter.com/zZ5geaFRkn

— #IndiaFightsCorona (@COVIDNewsByMIB) August 10, 2021
📍#𝑪𝑶𝑽𝑰𝑫19 𝑽𝒂𝒄𝒄𝒊𝒏𝒆 𝑫𝒐𝒔𝒆𝒔: 𝑨𝒈𝒆-𝒘𝒊𝒔𝒆 𝑫𝒊𝒔𝒕𝒓𝒊𝒃𝒖𝒕𝒊𝒐𝒏 (As on August 10th, 2021, till 10:00 AM)

✅ Above 60 years: 23.3%
✅ 45-60 years: 32.7%
✅ 18-44 years: 44%#We4Vaccine#LargestVaccinationDrive#Unite2FightCorona pic.twitter.com/EprEe2J3k3

— #IndiaFightsCorona (@COVIDNewsByMIB) August 10, 2021
📍Total #COVID19 Cases in India (as on August 10th, 2021)

▶97.45% Cured/Discharged/Migrated (3,11,80,968)
▶1.21% Active cases (3,88,508)
▶1.34% Deaths (4,28,682)

Total COVID-19 confirmed cases = Cured/Discharged/Migrated+Active cases+Deaths#StaySafe pic.twitter.com/lsG0AConXT

— #IndiaFightsCorona (@COVIDNewsByMIB) August 10, 2021
#CoronaVirusUpdates:#COVID19 testing status update:@ICMRDELHI stated that 48,17,67,232 samples tested upto August 8, 2021

13,71,871 samples tested on August 8, 2021#IndiaFightsCorona #Unite2FightCorona #StaySafe @DBTIndia pic.twitter.com/avZ55WpF7D

— #IndiaFightsCorona (@COVIDNewsByMIB) August 9, 2021
*********
MV/AS
(Release ID: 1744557)
Visitor Counter : 13