PIB Headquarters
PIB'S BULLETIN ON COVID-19
Posted On:
12 AUG 2021 5:43PM by PIB Delhi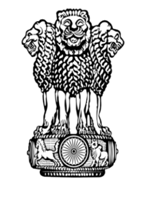 52.36 Cr. vaccine doses have been administered so far under Nationwide Vaccination Drive
Active cases constitute 1.21% of total cases; lowest since Mar 2020
India's Active caseload currently 3,87,987
Highest ever Recovery Rate achieved; currently at 97.45%
3,12,60,050total recoveries across the country so far
39,069patients recovered during last 24 hours
India reports 41,195new cases in last 24 hours
Weekly Positivity Rate remainsbelow5%, currently at 2.23%
Daily positivity rate at 1.94%; less than 3% for last 17 days
Testing capacity substantially ramped up – 48.73crore tests conducted(Total)
#Unite2FightCorona#IndiaFightsCorona
PRESS INFORMATION BUREAU
MINISTRY OF INFORMATION & BROADCASTING
GOVERNMENT OF INDIA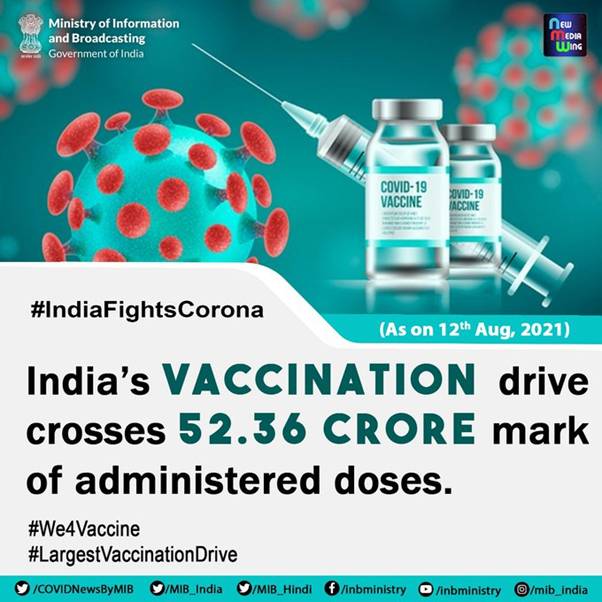 COVID-19 Update
India's Cumulative COVID-19 Vaccination Coverage crosses the landmark of 52 Cr
More than 44 Lakh vaccine doses administered in last 24 hours
India achieves its highest ever Recovery Rate of 97.45%
41,195 Daily New Cases reported in last 24 hours
India's Active Caseload (3,87,987) presently constitutes 1.21% of total cases
Daily Positivity Rate (1.94%) less than 3% for last 17 days
India's COVID-19 vaccination coverage hascrossed the landmark of 52 Cr. Cumulatively, 52,36,71,019vaccine doses have been administered through 59,97,068sessions, as per the provisional report till 7 am today. 44,19,627vaccine doses were administered in the last 24 hours.
These include:
HCWs

1st Dose

1,03,41,119

2nd Dose

80,34,194

FLWs

1st Dose

1,82,48,485

2nd Dose

1,19,35,584

Age Group 18-44 years

1st Dose

18,47,82,179

2nd Dose

1,34,26,569

Age Group 45-59 years

1st Dose

11,40,17,033

2nd Dose

4,40,01,065

Over 60 years

1st Dose

7,95,91,513

2nd Dose

3,92,93,278

Total

52,36,71,019
The new phase of universalization of COVID-19 vaccination has commenced from 21st June, 2021. The Union Government is committed to accelerating the pace and expanding the scope of COVID-19 vaccination throughout the country.
India's recovery rate stands at 97.45%. This is the highest ever recovery rate achieved by India since the start of the pandemic.
Out of the people infected since the beginning of the pandemic, 3,12,60,050 people have already recovered from COVID-19 and 39,069 patients have recovered in the last 24 hours.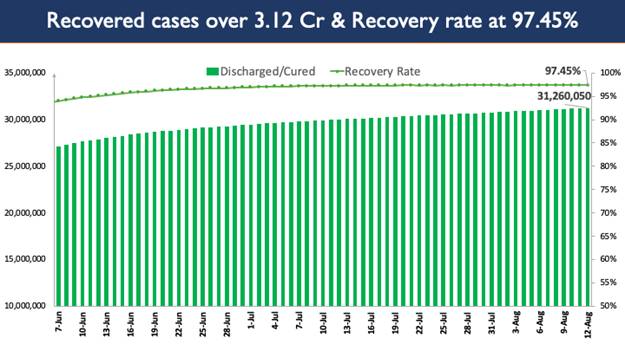 India has reported 41,195daily new cases in the last 24 hours.
Less than 50,000 Daily New Cases have been reported since forty-sixconsecutive days. This is a result of sustained and collaborative efforts by the Centre and the States/UTs.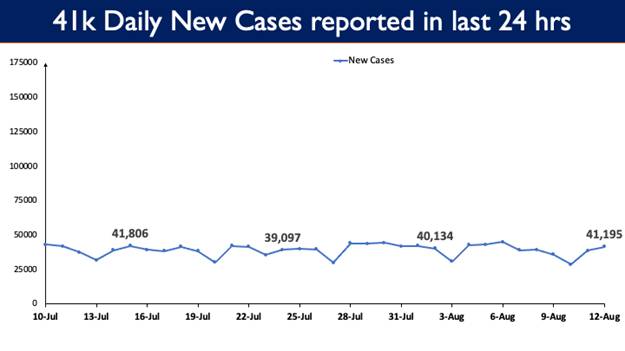 India's Active Caseload today stands at 3,87,987. Active cases now constitute only 1.21% of the country's total Positive Cases, which isthe lowest since March 2020.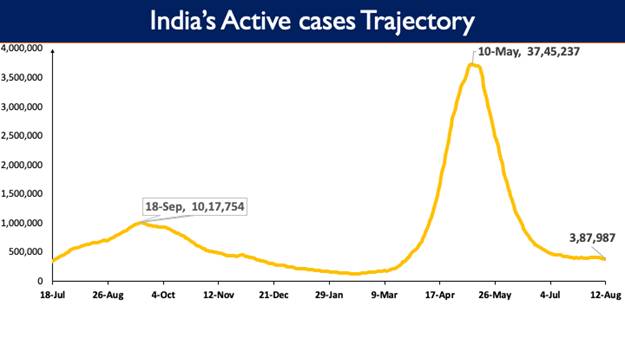 With substantially ramped up testing capacity across the country, a total of 21,24,953tests were conducted in the last 24 hours in the country. Cumulatively, India has conducted over 48.73 crore (48,73,70,196) tests so far.
While on one side testing capacity has been enhanced across the country, Weekly Positivity Rate currently stands at 2.23% and the Daily Positivity rate stands at 1.94% today. Daily Positivity rate has remained below 3% forlast 17 days and below 5% for 66 consecutive days now.
Details: https://pib.gov.in/PressReleasePage.aspx?PRID=1745040
COVID-19 Vaccination Update
More than 54.04 Crore vaccine doses provided to States/UTs
More than 2.55 Crore balance and unutilized doses still available with States/UTs and private hospitals to be administered
As part of the nationwide vaccination drive, Government of India has been supporting the States and UTs by providing them COVID Vaccines free of cost. In the new phase of the universalization of the COVID19 vaccination drive, the Union Government will procure and supply (free of cost) 75% of the vaccines being produced by the vaccine manufacturers in the country to States and UTs.
 

VACCINE DOSES

 

(As on 12 August 2021)

 

SUPPLIED

 

54,04,78,610

 

IN PIPELINE

 

1,09,83,510

 

CONSUMPTION

 

52,00,96,418

 

BALANCE AVAILABLE

 

 

2,55,54,533
More than 54.04 crore (54,04,78,610) vaccine doses have been provided to States/UTs so far, through all sources and a further 1,09,83,510 doses are in the pipeline.
Of this, the total consumption including wastages is 52,00,96,418 doses (as per data available at 8 AM today).
More than 2.55 Cr (2,55,54,533) balance and unutilized COVID Vaccine doses are still available with the States/UTs and private hospitals to be administered
Details: https://pib.gov.in/PressReleasePage.aspx?PRID=1745037
Important Tweets
कोरोना काल में जिस प्रकार से हमारी बहनों ने स्वयं सहायता समूहों के माध्यम से देशवासियों की सेवा की वो अभूतपूर्व है।

मास्क और सेनेटाइज़र बनाना हो, ज़रूरतमंदों तक खाना पहुंचाना हो, जागरूकता का काम हो, हर प्रकार से आपकी सखी समूहों का योगदान अतुलनीय रहा है: PM @narendramodi

— PMO India (@PMOIndia) August 12, 2021
Hon'ble Prime Minister, Shri @narendramodi to interact with rural Self Help Group (SHG) women under DAY-NRLM.
"Aatmanirbhar NariShakti se Samvad"
12 August '21 at 12:30 PM
Watch live: https://t.co/VD4OKb4hMd#AatmanirbharNariShakti pic.twitter.com/67xOwKDkdT

— Ministry of Health (@MoHFW_INDIA) August 12, 2021
Hon'ble Prime Minister, Shri @narendramodi to interact with rural Self Help Group (SHG) women under DAY-NRLM.
"Aatmanirbhar NariShakti se Samvad"
12 August '21 at 12:30 PM
Watch live: https://t.co/VD4OKb4hMd#AatmanirbharNariShakti pic.twitter.com/67xOwKDkdT

— Ministry of Health (@MoHFW_INDIA) August 12, 2021
Hon'ble Prime Minister, Shri @narendramodi to interact with rural Self Help Group (SHG) women under DAY-NRLM.
"Aatmanirbhar NariShakti se Samvad"
12 August '21 at 12:30 PM
Watch live: https://t.co/VD4OKb4hMd#AatmanirbharNariShakti pic.twitter.com/67xOwKDkdT

— Ministry of Health (@MoHFW_INDIA) August 12, 2021
#covid19 pandemic is an important turning point in modern history, it has unsettled the world and underlined the importance of good health in our life

It is even more critical & crucial that we engage and understand the aspirations of Indian youth: Union Minister @ianuragthakur pic.twitter.com/nqepKS9frS

— PIB India (@PIB_India) August 12, 2021
Held a meeting with Dr Soumya Swaminathan, Chief Scientist of @WHO

We had a productive discussion on WHO's approval of @BharatBiotech's COVAXIN.@DoctorSoumya also appreciated India's efforts for the containment of #COVID19 pic.twitter.com/5gnAOQkeT3

— Mansukh Mandaviya (@mansukhmandviya) August 12, 2021
#LargestVaccineDrive #Unite2FightCorona

Still confused about whether to get vaccinated during menstruation ? Here's Dr. Gitanjali Batmanabane, Director, #AIIMS, Bhubaneshwar dispelling all myths related to the same. pic.twitter.com/1ibJJUHohm

— Ministry of Health (@MoHFW_INDIA) August 12, 2021
📍More than 22.6 crore doses administered in first 52 days of the World's Largest Free-For-All Vaccination Drive launched on June 21, 2021. (As on August 12, 2021)

➡️ But this fight isn't over yet, strengthen the country's endeavour by getting #Vaccinated pic.twitter.com/SzKc6EB4CE

— #IndiaFightsCorona (@COVIDNewsByMIB) August 12, 2021
#IndiaFightsCorona:#COVID19Vaccination Status (As on 12th August, 2021, 8:00 AM)

✅Total vaccine doses administered (so far): 52,36,71,019

✅Vaccine doses administered (in last 24 hours): 44,19,627#We4Vaccine #LargestVaccinationDrive@ICMRDELHI @DBTIndia pic.twitter.com/7gzCLMMQk0

— #IndiaFightsCorona (@COVIDNewsByMIB) August 12, 2021
#CoronaVirusUpdates:#COVID19 testing status update:@ICMRDELHI stated that 48,73,70,196 samples tested upto August 11, 2021

21,24,953 samples tested on August 11, 2021#IndiaFightsCorona #Unite2FightCorona #StaySafe @DBTIndia pic.twitter.com/6jyKilClr3

— #IndiaFightsCorona (@COVIDNewsByMIB) August 12, 2021
📍Daily New Cases vis-à-vis Daily Samples Tested (As on 12th August, 2021, Till 8:00 AM)

☑️#StaySafe and follow #COVIDAppropriateBehaviour #Unite2FightCorona #StayHomeStaySafe pic.twitter.com/JsMImQwHXk

— #IndiaFightsCorona (@COVIDNewsByMIB) August 12, 2021
📍Total #COVID19 Cases in India (as on August 12th, 2021)

▶97.45% Cured/Discharged/Migrated (3,12,60,050)
▶1.21% Active cases (3,87,987)
▶1.34% Deaths (4,29,669)

Total COVID-19 confirmed cases = Cured/Discharged/Migrated+Active cases+Deaths#StaySafe pic.twitter.com/5v3adoUo5p

— #IndiaFightsCorona (@COVIDNewsByMIB) August 12, 2021
📍#𝑪𝑶𝑽𝑰𝑫19 𝑽𝒂𝒄𝒄𝒊𝒏𝒆 𝑫𝒐𝒔𝒆𝒔: 𝑨𝒈𝒆-𝒘𝒊𝒔𝒆 𝑫𝒊𝒔𝒕𝒓𝒊𝒃𝒖𝒕𝒊𝒐𝒏 (As on August 12th, 2021, till 09:00 AM)

✅ Above 60 years: 23.1%
✅ 45-60 years: 32.5%
✅ 18-44 years: 44.4%#We4Vaccine#LargestVaccinationDrive#Unite2FightCorona pic.twitter.com/Y00O3QK3Ii

— #IndiaFightsCorona (@COVIDNewsByMIB) August 12, 2021
*********
MV/AS
(Release ID: 1745189)
Visitor Counter : 17