PIB Headquarters
PIB'S BULLETIN ON COVID-19
Posted On:
13 AUG 2021 6:53PM by PIB Delhi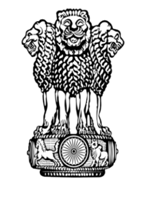 Over 53 Cr. vaccine doses have been administered so far under Nationwide Vaccination Drive
Active cases constitute 1.20% of total cases; lowest since Mar 2020
India's Active caseload currently 3,85,227
Highest ever Recovery Rate achieved; currently at 97.46%
3,13,02,345 total recoveries across the country so far
42,295 patients recovered during last 24 hours
India reports 40,120 new cases in last 24 hours
Weekly Positivity Rate remains below 5%, currently at 2.13%
Daily positivity rate at 2.04%; less than 3% for last 18 days
Testing capacity substantially ramped up – 48.94 crore tests conducted(Total)
#Unite2FightCorona
#IndiaFightsCorona
PRESS INFORMATION BUREAU
MINISTRY OF INFORMATION & BROADCASTING
GOVERNMENT OF INDIA
COVID-19 Update
India's Cumulative COVID-19 Vaccination Coverage crosses 53 Cr
More than 57 Lakh vaccine doses administered in last 24 hours
India achieves its highest ever Recovery Rate of 97.46%
40,120 Daily New Cases reported in last 24 hours
India's Active Caseload (3,85,227)presently constitute 1.20% of total cases
Daily Positivity Rate (2.04%) less than 3% for last 18 days
India's COVID-19 vaccination coverage has crossed 53 Crore today afternoon. Cumulatively, as per the provisional report till 7 am today,52,95,82,956 vaccine doses had been administered through 60,40,607 sessions. 57,31,574 vaccine doses were administered in the last 24 hours.
These include:
HCWs

1st Dose

1,03,43,406

2nd Dose

80,50,401

FLWs

1st Dose

1,82,54,407

2nd Dose

1,19,88,029

Age Group 18-44 years

1st Dose

18,80,51,247

2nd Dose

1,39,53,516

Age Group 45-59 years

1st Dose

11,48,89,656

2nd Dose

4,44,21,296

Over 60 years

1st Dose

8,00,90,640

2nd Dose

3,95,40,358

Total

52,95,82,956
The new phase of universalization of COVID-19 vaccination has commenced from 21st June, 2021. The Union Government is committed to accelerating the pace and expanding the scope of COVID-19 vaccination throughout the country.
India's recovery rate rises to 97.46%. This is the highest ever recovery rate achieved by India since the start of the pandemic.
Out of the people infected since the beginning of the pandemic, 3,13,02,345 people have already recovered from COVID-19 and 42,295 patients have recovered in the last 24 hours.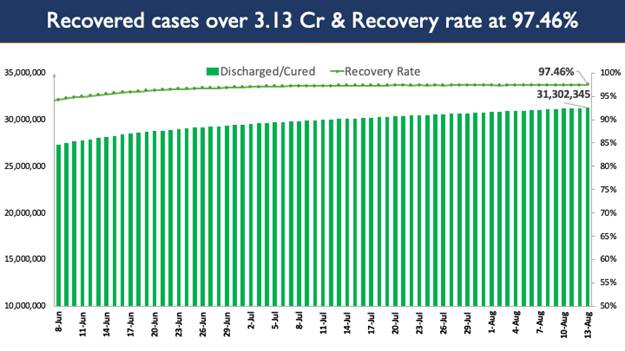 India has reported 40,120 daily new cases in the last 24 hours.
Less than 50,000 Daily New Cases have been reported since forty-sevenconsecutive days. This is a result of sustained and collaborative efforts by the Centre and the States/UTs.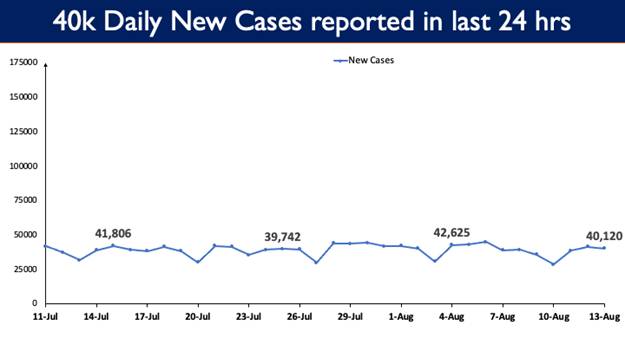 India's Active Caseload today stands at 3,85,227. Active cases now constitute only 1.20% of the country's total Positive Cases, which isthe lowest since March 2020.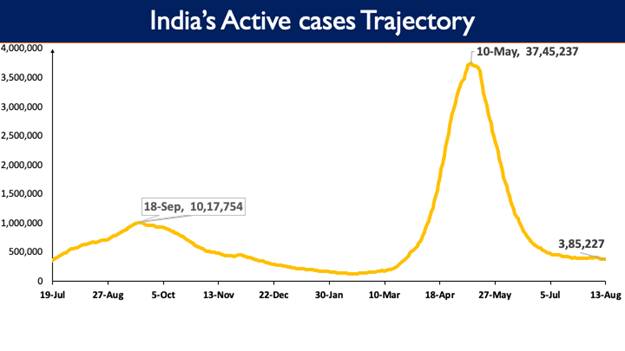 With substantially ramped up testing capacity across the country, a total of 19,70,495tests were conducted in the last 24 hours in the country. Cumulatively, India has conducted over 48.94 crore (48,94,70,779) tests so far.
While on one side testing capacity has been enhanced across the country, Weekly Positivity Rate currently stands at 2.13% and the Daily Positivity rate stands at 2.04% today. Daily Positivity rate has remained below 3% forlast 18 days and below 5% for 67 consecutive days now.
Details: https://pib.gov.in/PressReleseDetail.aspx?PRID=1745330
COVID-19 Vaccination Update
More than 55.01 Crore vaccine doses provided to States/UTs
More than 2.82 Crore balance and unutilized doses still available with States/UTs and private hospitals to be administered
As part of the nationwide vaccination drive, Government of India has been supporting the States and UTs by providing them COVID Vaccines free of cost. In the new phase of the universalization of the COVID19 vaccination drive, the Union Government will procure and supply (free of cost) 75% of the vaccines being produced by the vaccine manufacturers in the country to States and UTs.
 

VACCINE DOSES

 

(As on 13 August 2021)

 

SUPPLIED

 

55,01,93,040

 

IN PIPELINE

 

59,16,920

 

CONSUMPTION

 

52,59,93,669

 

BALANCE AVAILABLE

 

 

2,82,57,130
More than 55.01 crore (55,01,93,040) vaccine doses have been provided to States/UTs so far, through all sources and a further 59,16,920 doses are in the pipeline.
Of this, the total consumption including wastages is 52,59,93,669 doses (as per data available at 8 AM today).
More than 2.82 Cr (2,82,57,130) balance and unutilized COVID Vaccine doses are still available with the States/UTs and private hospitals to be administered.
Details: https://pib.gov.in/PressReleseDetail.aspx?PRID=1745331
National Commission for Women Urges Chief Secretaries To Take Measures To Close Gender Gap In Vaccination
Need To Create Public Health Awareness So That More And More Women Are Vaccinated On Priority: NCW Chairperson
'Centre Has Been Running Intensified Vaccination Drives To Reach Every Nook & Cranny Of The Country'
The National Commission for Women, taking cognisance of a media report which highlights low uptake of COVID-19 jabs among women, has written to Chief Secretaries of all States/UTs urging them to take measures to close the gender gap in vaccination and to ensure that women are not left behind in the vaccination drive. The gap in immunisation coverage between the two genders is a matter of great concern for the Commission and therefore, Chairperson, Ms Rekha Sharma, in the letter, has mentioned that there is an urgent need to increase the proportion of women coming to vaccination booths for receiving the vaccine so that the gap in immunization coverage can be corrected.
Details:https://pib.gov.in/PressReleseDetail.aspx?PRID=1745392
First Nasal Vaccine Developed by Bharat Biotech supported by DBT-BIRAC gets nod of regulator for Phase 2/3 Trial
Bharat Biotech's intranasal vaccine is the first nasal vaccine that has received the regulatory approval for Phase 2/3 trials. This is the first of its kind COVID-19 jab to undergo human clinical trials in India. BBV154 is an intranasal replication-deficient chimpanzee adenovirus SARS-CoV-2 vectored vaccine.BBIL has in-licensed technology from Washington University in St Louis, USA.
Details:https://pib.gov.in/PressReleseDetail.aspx?PRID=1745509
Indian Immunologicals receive manufacturing license under Department of Biotechnology – Mission Covid Suraksha Project for Augmentation of Manufacturing Capacity for COVAXIN
Department of Biotechnology and BIRAC under the Mission Covid Suraksha announced by the Government of India, under Atmanirbhar Bharat 3.0 to accelerate the development and production of Indigenous COVID Vaccines, have lauched a project to augment production capacities of Covaxin.
Indian Immunologicals limited, Hyderabad, is the first site under this project to receive from CDSCO, a loan license for supplying Covaxin Drug Substance produced at its repurposed facility to Bharat Biotech. Indian Immunlogicals will supply the first lot of commercial Covaxin Drug Susbstance to Bharat Biotech on 13th August 2021. The facility will produce 2-3 million doses per month initially, and another 4-5 million doses from its new facility at Karkapatla, in next few weeks.
Details:https://pib.gov.in/PressReleseDetail.aspx?PRID=1745464
Chief Scientist, WHO Dr Soumya Swaminathan calls on Union Minister Dr Jitendra Singh and discusses various aspects of COVID pandemic
India has undertaken the fastest & the largest vaccination drive so far: Dr Jitendra Singh
Chief Scientist, WHO, Dr Soumya Swaminathan, yesterday called on Minister of State (Independent Charge) Science & Technology; Minister of State (Independent Charge) Earth Sciences; MoS PMO, Personnel, Public Grievances, Pensions, Atomic Energy and Space, Dr Jitendra Singh.Dr Soumya, who is an eminent medical professional and former Head of ICMR, discussed with Dr Jitendra Singh various aspects of the current COVID pandemic as well as a wide range of other issues.
Emphasising on the importance of mass vaccination through easy availability and accessibility, Dr Soumya said, even though the vaccine may not be able to provide absolute protection against different variants of Virus, it can certainly reduce the risk of death and complications. The Minister informed her that with the personal intervention and day-to-day personal monitoring by Prime Minister Narendra Modi, India has undertaken the fastest and the largest vaccination drive. On the call of Prime Minister Modi, people from all sections of the society are coming forward to cooperate.
Details:https://pib.gov.in/PressReleseDetail.aspx?PRID=1745209
Important Tweets
#IndiaFightsCorona:#COVID19Vaccination Status (As on 13th August, 2021, 8:00 AM)

✅Total vaccine doses administered (so far): 52,95,82,956

✅Vaccine doses administered (in last 24 hours): 57,31,574#We4Vaccine #LargestVaccinationDrive@ICMRDELHI @DBTIndia pic.twitter.com/AlQXcpFeHJ

— #IndiaFightsCorona (@COVIDNewsByMIB) August 13, 2021
#CoronaVirusUpdates:#COVID19 testing status update:@ICMRDELHI stated that 48,94,70,779 samples tested upto August 12, 2021

19,70,495 samples tested on August 12, 2021#IndiaFightsCorona #Unite2FightCorona #StaySafe @DBTIndia pic.twitter.com/3pc3oJMEhg

— #IndiaFightsCorona (@COVIDNewsByMIB) August 13, 2021
📍Daily New Cases vis-à-vis Daily Samples Tested (As on 13th August, 2021, Till 8:00 AM)

☑️#StaySafe and follow #COVIDAppropriateBehaviour #Unite2FightCorona #StayHomeStaySafe pic.twitter.com/g9pJ1Cp4i2

— #IndiaFightsCorona (@COVIDNewsByMIB) August 13, 2021
📍More than 23.2 crore doses administered in first 53 days of the World's Largest Free-For-All Vaccination Drive launched on June 21, 2021. (As on August 13, 2021)

➡️ But this fight isn't over yet, strengthen the country's endeavour by getting #Vaccinated pic.twitter.com/KRpNyRzt0t

— #IndiaFightsCorona (@COVIDNewsByMIB) August 13, 2021
📍#𝑪𝑶𝑽𝑰𝑫19 𝑽𝒂𝒄𝒄𝒊𝒏𝒆 𝑫𝒐𝒔𝒆𝒔: 𝑨𝒈𝒆-𝒘𝒊𝒔𝒆 𝑫𝒊𝒔𝒕𝒓𝒊𝒃𝒖𝒕𝒊𝒐𝒏 (As on August 13th, 2021, till 10:00 AM)

✅ Above 60 years: 22.9%
✅ 45-60 years: 32.4%
✅ 18-44 years: 44.7%#We4Vaccine#LargestVaccinationDrive#Unite2FightCorona pic.twitter.com/0VOnzHdiLL

— #IndiaFightsCorona (@COVIDNewsByMIB) August 13, 2021
📍Total #COVID19 Cases in India (as on August 13th, 2021)

▶97.46% Cured/Discharged/Migrated (3,13,02,345)
▶1.20% Active cases (3,85,227)
▶1.34% Deaths (4,30,254)

Total COVID-19 confirmed cases = Cured/Discharged/Migrated+Active cases+Deaths#StaySafe pic.twitter.com/JsqrnKr0FP

— #IndiaFightsCorona (@COVIDNewsByMIB) August 13, 2021
An amount of ₹ 23,123 crore allocated for 2021-22 under the India #COVID19 Emergency Response and Health System Preparedness Package -II launched on July 8th, 2021. #Unite2FightCorona pic.twitter.com/0CkiVOGimS

— Ministry of Health (@MoHFW_INDIA) August 13, 2021
#Kashmir के बांदीपोरा ज़िले के विवान गांव में 18 वर्ष और उससे अधिक सभी लोगों को #COVID19 का पहला टीका लग गया है। यह सफलता चिकित्सा कर्मियों की मेहनत का नतीजा है। #CovidGroundZero #IndiaFightsCorona @PMOIndia @mansukhmandviya @ianuragthakur @DrBharatippawar pic.twitter.com/zJpoPGYvrD

— Ministry of Health (@MoHFW_INDIA) August 13, 2021
📍#COVID19 labs in India (As on August 12, 2021) 👇#Unite2FightCorona #StaySafe pic.twitter.com/m6b0UTDY3b

— #IndiaFightsCorona (@COVIDNewsByMIB) August 13, 2021
COVID-19 Testing Update. For more details visit: https://t.co/dI1pqvXAsZ @MoHFW_INDIA @DeptHealthRes @PIB_India @mygovindia @COVIDNewsByMIB #ICMRFIGHTSCOVID19 #IndiaFightsCOVID19 #CoronaUpdatesInIndia #COVID19 #Unite2FightCorona pic.twitter.com/sUKBcaCToc

— ICMR (@ICMRDELHI) August 13, 2021
.*********
MV/AS
(Release ID: 1745545)
Visitor Counter : 9