PIB Headquarters
PIB'S BULLETIN ON COVID-19
Posted On:
09 SEP 2021 5:37PM by PIB Delhi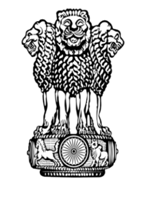 71.65 Cr. vaccine doses have been administered so far under Nationwide Vaccination Drive
43,263 new cases in the last 24 hours
Active cases account for 1.19% of total cases
India's Active caseload stands at 3,93,614
Recovery Rate currently at 97.48%
40,567 recoveries in the last 24 hours increases Total Recoveries to 3,23,04,618
Weekly Positivity Rate (2.43%) less than 3% for last 76 days
Daily positivity rate reported to be 2.38% less than 3% for last 10 days
53.68 crore Total Tests conducted so far
#Unite2FightCorona#IndiaFightsCorona
PRESS INFORMATION BUREAU
MINISTRY OF INFORMATION & BROADCASTING
GOVERNMENT OF INDIA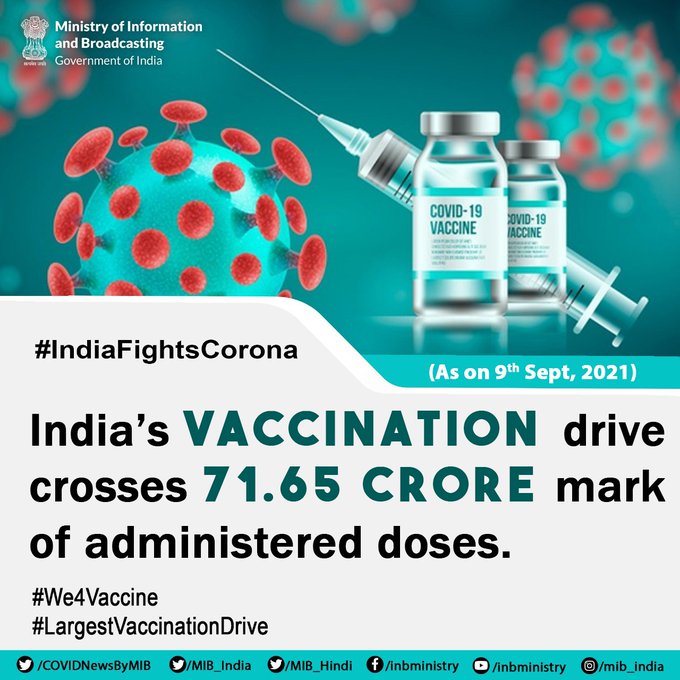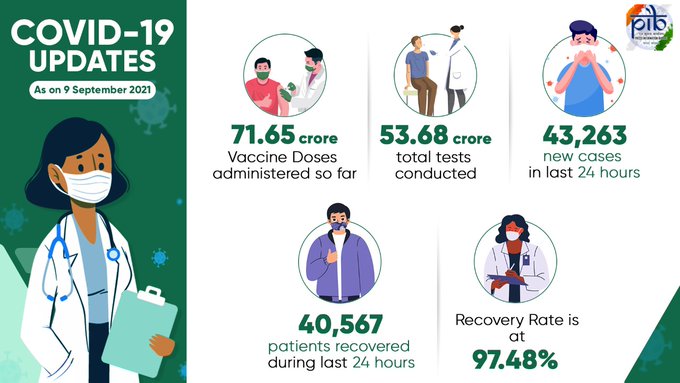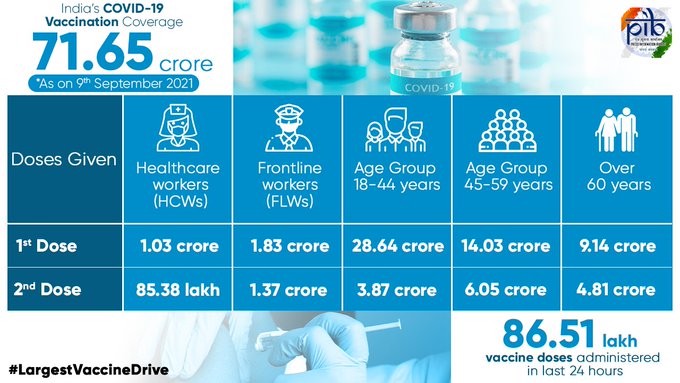 COVID-19 Update
India's Cumulative COVID-19 Vaccination Coverage exceeds 71.65 Cr
Recovery Rate currently at 97.48%
43,263 New Cases reported in the last 24 hours
India's Active Caseload (3, 93, 614)is 1.19% of Total Cases
Weekly Positivity Rate (2.43%) less than 3% for last 76 days
With the administration of 86,51,701 vaccine doses in the last 24 hours, country's COVID-19 vaccination coverage surpassed the cumulative figure of 71.65 Cr (71,65,97,428) as per provisional reports till 7 am today. This has been achieved through 73, 56,173 sessions.
The break-up of the cumulative figureas per the provisional report till 7 am today include:
 

HCWs

1st Dose

1,03,62,250

2nd Dose

85,38,334

 

FLWs

1st Dose

1,83,34,029

2nd Dose

1,37,98,266

 

Age Group 18-44 years

1st Dose

28,64,51,739

2nd Dose

3,87,13,940

 

Age Group 45-59 years

1st Dose

14,03,00,422

2nd Dose

6,05,11,083

 

Over 60 years

1st Dose

9,14,48,566

2nd Dose

4,81,38,799

Total

71,65,97,428
The Union Government is committed to accelerating the pace and expanding the scope of COVID-19 vaccination throughout the country.
The recovery of 40,567 patients in the last 24 hours has increased the cumulative tally of recovered patients (since the beginning of the pandemic) to 3, 23, 04,618.
Consequently, India's recovery rate stands at 97.48%.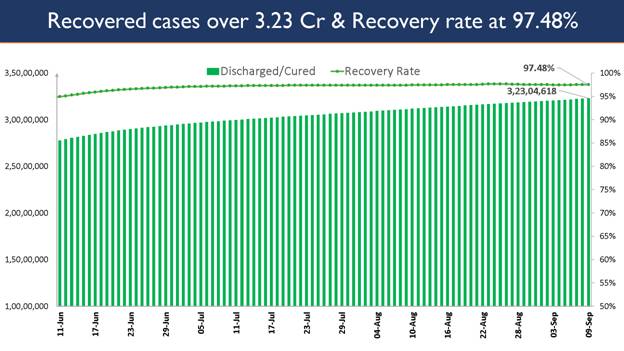 Sustained and collaborative efforts by the Centre and the States/UTs continue the trend of less than 50,000 Daily New Cases that is being reported for 74 consecutive days now.
43,263 new cases were reported in the last 24 hours.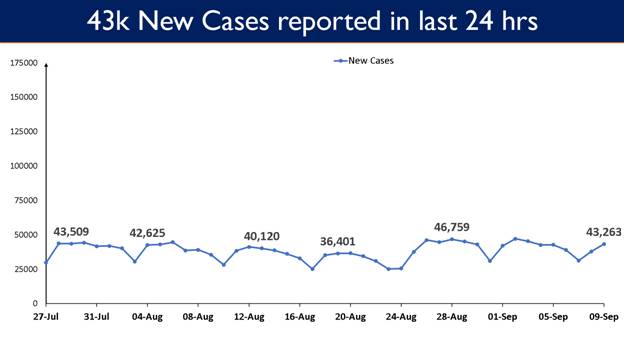 The Active Caseload is presently 3, 93, 614. Active cases presently constitute 1.19% of the country's total Positive Cases.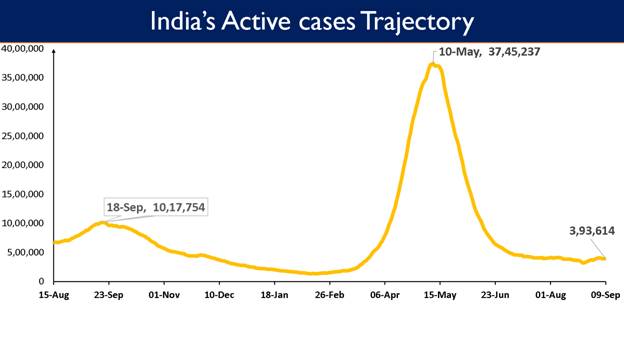 The testing capacity across the country continues to be expanded. The last 24 hours saw a total of 18,17,639tests being conducted. India has so far conducted over 53.68 Cr (53, 68, 17, 243) cumulative tests.
While testing capacity has been enhanced across the country, Weekly Positivity Rate at 2.43% remains less than 3% for the last 76 days now. The Daily Positivity rate reported to be 2.38%. The daily Positivity rate has remained below 3% for last 10 days and below 5% for 94 consecutive days now.
Details: https://pib.gov.in/PressReleasePage.aspx?PRID=1753416
COVID-19 Vaccination Update
More than 70.63 Crore vaccine doses provided to States/UTs
More than 5.58 Crore balance and unutilized vaccine doses still available with States/UTswith more than 96 Lakh doses in Pipeline
As part of the nationwide vaccination drive, Government of India has been supporting the States and UTs by providing them COVID Vaccines free of cost. In the new phase of the universalization of the COVID19 vaccination drive, the Union Government will procure and supply (free of cost) 75% of the vaccines being produced by the vaccinemanufacturers in the country to States and UTs.
 

VACCINE DOSES

 

(As on 9 September 2021)

 

SUPPLIED

 

70,63,47,565

 

PIPELINE

 

96,25,760

 

BALANCE AVAILABLE

 

 

5,58,07,125
More than 70.63crore(70,63,47,565) vaccine doses have been provided to States/UTs so far through Govt of India (free of cost channel) and through direct state procurement category.Further, more than96 Lakh doses (96,25,760) are in the pipeline.
More than5.58Cr (5,58,07,125)balance and unutilized COVID Vaccine doses are still available with the States/UTs to be administered.
Details: https://pib.gov.in/PressReleasePage.aspx?PRID=1753399
COVID Appropriate Behaviours very important, considering festive season, cautions COVID Working Group Chairman
Almost 30,000 – 45000 daily cases on an average are being reported in our country for last several weeks. This is reported mostly from specific geographic regions, especially Kerala, many North Eastern States and a few districts of Maharashtra and some other southern states. If we follow the genomic analysis of SARS-COV-2 viruses circulating during June, July and August, no new variants have emerged and on the basis of sero-survey conducted during July, the on-going COVID cases represent the susceptible individuals who are not yet immunized; they are affected as part of the last phase of second wave.
In the sero-survey of July, 66% to 70% people were found to be infected; this also means 30% people are still prone to infection; and that they can be infected any time particularly if they are still unvaccinated. Hence any complacency on the part of any of us throughout the country will cost hugely since the 30% people can be infected and many of them can develop severe disease and rarely fatal, like we witnessed during April and May 2021.
Hence, following COVID Appropriate Behaviours is absolutely essential and critical, especially with the coming festive season. Emergence of new mutation around this time can also be a reason for the arrival of a third wave.
Details: https://pib.gov.in/PressReleasePage.aspx?PRID=1753459
Important Tweets
डीएनएस न्यूज़ नामक एक #YouTube चैनल पर कई वीडियो के थंबनेल में #Covid_19 की तीसरी लहर, लॉकडाउन और स्कूल-कॉलेज बंद करने से संबंधित फ़र्ज़ी दावे किए जा रहे हैं।#PIBFactCheck

▶️ ये वीडियो भ्रामक हैं।
▶️ इस तरह के किसी भी वीडियो या इनके भ्रामक स्क्रीनशॉट को साझा न करें। pic.twitter.com/AgShhtzxg2

— PIB Fact Check (@PIBFactCheck) September 9, 2021
📍𝑴𝒐𝒓𝒆 𝒕𝒉𝒂𝒏 325 𝑴𝒊𝒍𝒍𝒊𝒐𝒏 𝒗𝒂𝒄𝒄𝒊𝒏𝒆 𝒅𝒐𝒔𝒆𝒔 𝒂𝒅𝒎𝒊𝒏𝒊𝒔𝒕𝒆𝒓𝒆𝒅 𝒕𝒐 18-44 𝒚𝒆𝒂𝒓𝒔 𝒂𝒈𝒆 𝒈𝒓𝒐𝒖𝒑 𝒖𝒏𝒅𝒆𝒓 𝒕𝒉𝒆 #𝑳𝒂𝒓𝒈𝒆𝒔𝒕𝑽𝒂𝒄𝒄𝒊𝒏𝒂𝒕𝒊𝒐𝒏𝑫𝒓𝒊𝒗𝒆. (As on 9 September, 2021, 8 AM)#We4Vaccine#VaccinationForAll pic.twitter.com/vxh7k1sy1u

— #IndiaFightsCorona (@COVIDNewsByMIB) September 9, 2021
📍India's Cumulative Vaccination Coverage(As on 9 September, 2021, 07 AM)

➡️More than 71.65 crore doses administered
➡️More than 32.5 crore beneficiaries of age group 18-44 yrs vaccinated in phase-3 of #LargestVaccinationDrive #Unite2FightCorona #We4Vaccine pic.twitter.com/jikoTF5XtD

— #IndiaFightsCorona (@COVIDNewsByMIB) September 9, 2021
📍Government of India has so far provided more than 70.63 crore vaccine doses to States/UTs Free of Cost (As on 9 September, 2021, 8:00 am)

➡️More than 5.58 crore doses are still available with States/UTs to be administered.#We4Vaccine #Unite2FightCorona pic.twitter.com/t0RKcu00G0

— #IndiaFightsCorona (@COVIDNewsByMIB) September 9, 2021
📍Daily New Cases vis-à-vis Daily Samples Tested (As on 9th September, 2021, Till 8:00 AM)

☑️#StaySafe and follow #COVIDAppropriateBehaviour #Unite2FightCorona #StayHomeStaySafe pic.twitter.com/hk9xfembFz

— #IndiaFightsCorona (@COVIDNewsByMIB) September 9, 2021
#IndiaFightsCorona:#COVID19Vaccination Status (As on 9th September 2021, 8:00 AM)

✅Total vaccine doses administered (so far): 71,65,97,428

✅Vaccine doses administered (in last 24 hours): 86,51,701#We4Vaccine #LargestVaccinationDrive@ICMRDELHI @DBTIndia pic.twitter.com/pKuswywzFy

— #IndiaFightsCorona (@COVIDNewsByMIB) September 9, 2021
📍More than 41.0 crore doses administered in first 80 days of the World's Largest Free-For-All Vaccination Drive launched on June 21, 2021. (As on September 9, 2021)

➡️ But this fight isn't over yet, strengthen the country's endeavour by getting #Vaccinated pic.twitter.com/6WeEno8Hvf

— #IndiaFightsCorona (@COVIDNewsByMIB) September 9, 2021
*********
AS
(Release ID: 1753554)
Visitor Counter : 114


Read this release in: