PIB Headquarters
PIB'S BULLETIN ON COVID-19
Posted On:
16 SEP 2021 3:58PM by PIB Delhi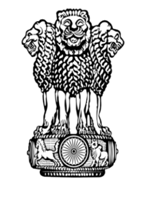 76.57 Cr. vaccine doses have been administered so far under Nationwide Vaccination Drive
30,570 new cases in the last 24 hours
Active cases account for 1.03% of total cases
India's Active caseload stands at 3,42,923
Recovery Rate currently at 97.64%
38,303 recoveries in the last 24 hours increases Total Recoveries to 3,25,60,474
Weekly Positivity Rate (1.93%) less than 3% for last 83 days
Daily positivity rate (1.94%) less than 3% for last 17 days
54.77 crore Total Tests conducted so far
#Unite2FightCorona
#IndiaFightsCorona
PRESS INFORMATION BUREAU
MINISTRY OF INFORMATION & BROADCASTING
GOVERNMENT OF INDIA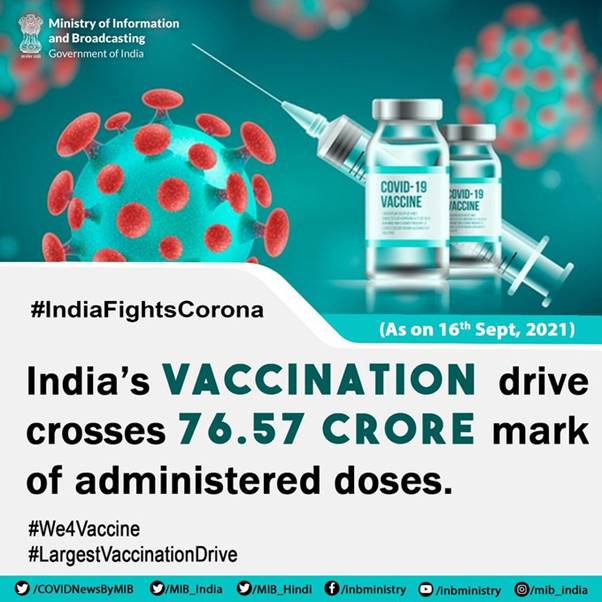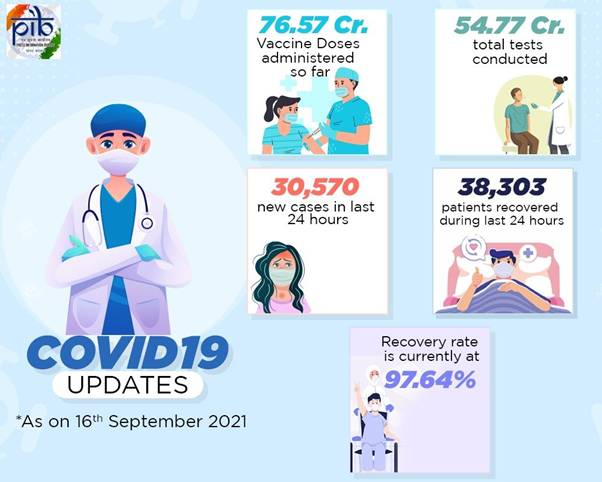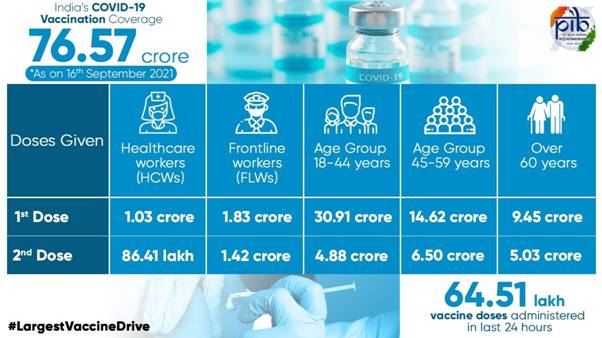 COVID-19 Update
India's Cumulative COVID-19 Vaccination Coverage exceeds 76.57Cr
More than 64.5 Lakh doses administered in last 24 hours
Recovery Rate currently at 97.64%
30,570 New Cases reported in the last 24 hours
India's Active Caseload (3,42,923)is 1.03% of Total Cases
Weekly Positivity Rate (1.93%) less than 3% for last 83 days
With the administration of 64,51,423 vaccine doses in the last 24 hours, country's COVID-19 vaccination coverage surpassed the cumulative figure of 76.57 Cr (76,57,17,137) as per provisional reports till 7 am today. This has been achieved through 77,22,914sessions.
The break-up of the cumulative figureas per the provisional report till 7 am today include:
 

HCWs

1st Dose

1,03,65,645

2nd Dose

86,41,364

 

FLWs

1st Dose

1,83,40,334

2nd Dose

1,42,03,101

 

Age Group 18-44 years

1st Dose

30,91,72,935

2nd Dose

4,88,51,566

 

Age Group 45-59 years

1st Dose

14,62,56,729

2nd Dose

6,50,07,644

 

Over 60 years

1st Dose

9,45,11,108

2nd Dose

5,03,66,711

Total

76,57,17,137
The Union Government is committed to accelerating the pace and expanding the scope of COVID-19 vaccination throughout the country.
The recovery of 38,303 patients in the last 24 hours has increased the cumulative tally of recovered patients (since the beginning of the pandemic) to 3,25,60,474.
Consequently, India's recovery rate stands at 97.64%.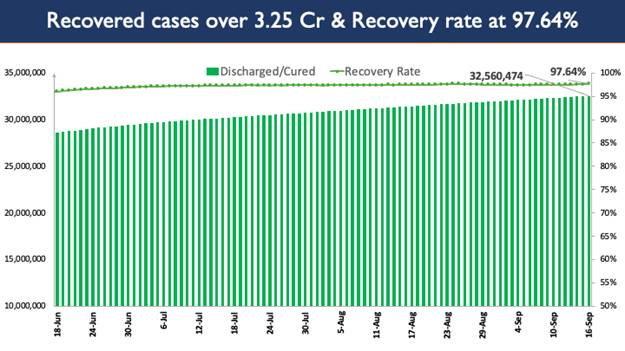 Sustained and collaborative efforts by the Centre and the States/UTs continue the trend of less than 50,000 Daily New Cases that is being reported for 81 consecutive days now.
30,570 new cases were reported in the last 24 hours.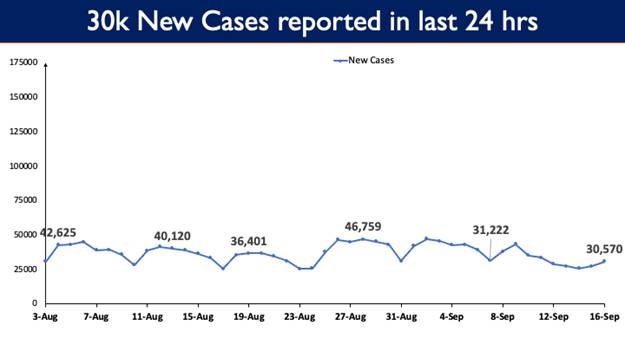 The Active Caseload is presently 3,42,923. Active cases presently constitute 1.03% of the country's total Positive Cases.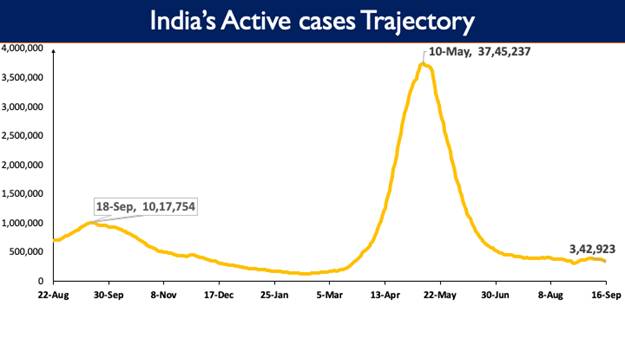 The testing capacity across the country continues to be expanded. The last 24 hours saw a total of
15,79,761tests being conducted. India has so far conducted over 54.77 Cr (54,77,01,729) cumulative tests.
While testing capacity has been enhanced across the country, Weekly Positivity Rate at 1.93% remains less than 3% for the last 83 days now. The Daily Positivity rate reported to be 1.94%. The daily Positivity rate has remained below 3% for last 17 days and below 5% for 100 consecutive days now.
Details: https://pib.gov.in/PressReleasePage.aspx?PRID=1755297
Update on COVID-19 Vaccine Availability in States/UTs
More than 76.11Crore vaccine doses provided to States/UTs
More than 5.33 Crore balance and unutilized vaccine doses still available with States/UTswith more than1.65Crore doses in Pipeline
As part of the nationwide vaccination drive, Government of India has been supporting the States and UTs by providing them COVID Vaccines free of cost. In the new phase of the universalization of the COVID19 vaccination drive, the Union Government will procure and supply (free of cost) 75% of the vaccines being produced by the vaccinemanufacturers in the country to States and UTs.
 

VACCINE DOSES

 

(As on 16thSeptember 2021)

 

SUPPLIED

 

76,11,49,825

 

PIPELINE

 

1,65,76,510

 

BALANCE AVAILABLE

 

 

5,33,75,475
More than 76.11 crore (76,11,49,825) vaccine doses have been provided to States/UTs so far through Govt of India (free of cost channel) and through direct state procurement category.Further, more than 1.65 Crore doses (1,65,76,510) are in the pipeline.
More than 5.33 Cr (5,33,75,475) balance and unutilized COVID Vaccine doses are still available with the States/UTs to be administered.
Details: https://pib.gov.in/PressReleasePage.aspx?PRID=1755296
Union Health Minister Shri Mansukh Mandaviya inaugurates multiple Health Facilities at the Safdarjung Hospital
Exhorts the Hospital Community to make it a Model Hospital for the whole country
"Let us work towards Prime Minister's vision to holistically transform the health system for New India"
Union Minister for Health and Family Welfare Shri Mansukh Mandaviya inaugurated many patient-centric facilities at the Safdarjung Hospital, here today. He inaugurated a child abuse care and elder abuse care centre in the New Block of the Hospital, the third PM-CARES Pressure Swing Adsorption Oxygen Plant of capacity 1 MT and the new makeshift hospital at the hospital premises. He released a booklet "Quality kiBaat" and also presented the Hospital its entry level NABH accreditation Certificate.
Details: https://pib.gov.in/PressReleseDetail.aspx?PRID=1755398
Important Tweets
'सबको वैक्सीन, मुफ़्त वैक्सीन' की PM @NarendraModi जी ने देश को सौग़ात दी है!

कल हम सबके प्रिय प्रधानमंत्री जी का जन्मदिन है, चलो #VaccineSeva कर जिन्होंने वैक्सीन नहीं ली है, ऐसे अपनों को, परिजनों को और समाज के सभी तबकों को टीका लगवाकर, उनको जन्मदिन का उपहार देते हैं।

— Mansukh Mandaviya (@mansukhmandviya) September 16, 2021
COVID Safe Festivities this year will be a determining factor in our fight against the pandemic : Dr. V K Paul, Member (Health), @NITIAayog #Unite2FightCorona#AbNahinTohCAB#COVIDGuruKool#TyoharKeRangCABkeSang @PMOIndia @mansukhmandviya @ianuragthakur @DrBharatippawar pic.twitter.com/779ok6SZjJ

— Ministry of Health (@MoHFW_INDIA) September 16, 2021
Prevention is better than cure!🏥

To strengthen the fight against the #COVID19 pandemic, @BBAIndia handed #CovidCare kits to #AspirationalDistrict Katihar. The kit includes oxygen cylinders, masks, oximeters, IR guns, PPE kits, glucometers, BP meters & more. pic.twitter.com/iKZ8I2GVNL

— NITI Aayog (@NITIAayog) September 16, 2021
📍Total #COVID19 Cases in India (as on September 16, 2021)

▶97.64% Cured/Discharged/Migrated (3,25,60,474)
▶1.03% Active cases (3,42,923)
▶1.33% Deaths (4,43,928)

Total COVID-19 confirmed cases = Cured/Discharged/Migrated+Active cases+Deaths#StaySafe pic.twitter.com/2SsB8O1VuF

— #IndiaFightsCorona (@COVIDNewsByMIB) September 16, 2021
📍#𝑪𝑶𝑽𝑰𝑫19 𝑽𝒂𝒄𝒄𝒊𝒏𝒆 𝑫𝒐𝒔𝒆𝒔: 𝑨𝒈𝒆-𝒘𝒊𝒔𝒆 𝑫𝒊𝒔𝒕𝒓𝒊𝒃𝒖𝒕𝒊𝒐𝒏 (As on September 16th, 2021, till 12:00 PM)

✅ Above 60 years: 19.1%
✅ 45-60 years: 29.1%
✅ 18-44 years: 51.8%#We4Vaccine#LargestVaccinationDrive#Unite2FightCorona pic.twitter.com/lJ6xiOqN8l

— #IndiaFightsCorona (@COVIDNewsByMIB) September 16, 2021
India is leading the global #COVID19 vaccinations with the world's #LargestVaccineDrive!

More than 184 million individuals fully vaccinated so far.#We4Vaccine pic.twitter.com/jRxXHzdkaf

— #IndiaFightsCorona (@COVIDNewsByMIB) September 16, 2021
COVID-19 Testing Update. For more details visit: https://t.co/dI1pqvXAsZ @MoHFW_INDIA @DeptHealthRes @PIB_India @mygovindia @COVIDNewsByMIB #ICMRFIGHTSCOVID19 #IndiaFightsCOVID19 #CoronaUpdatesInIndia #COVID19 #Unite2FightCorona pic.twitter.com/3nePJD7xub

— ICMR (@ICMRDELHI) September 16, 2021
COVID-19 Testing Update. For more details visit: https://t.co/dI1pqvXAsZ @MoHFW_INDIA @DeptHealthRes @PIB_India @mygovindia @COVIDNewsByMIB #ICMRFIGHTSCOVID19 #IndiaFightsCOVID19 #CoronaUpdatesInIndia #COVID19 #Unite2FightCorona pic.twitter.com/3nePJD7xub

— ICMR (@ICMRDELHI) September 16, 2021
Another landmark achievement in India's fight against COVID-19

With an average of 8.54 million doses of vaccine being administered daily, India 🇮🇳has surpassed 18 major countries in the world in terms of average daily vaccination.#IndiaFightsCorona pic.twitter.com/yl08LBOzKi

— Indian Diplomacy (@IndianDiplomacy) September 16, 2021
*********
AS
(Release ID: 1755439)
Visitor Counter : 174