PIB Headquarters
PIB'S BULLETIN ON COVID-19
Posted On:
26 SEP 2021 7:00PM by PIB Delhi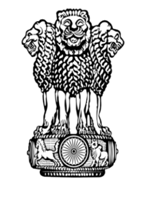 85.60 Cr. vaccine doses have been administered so far under Nationwide Vaccination Drive
Active cases account for less than 1% of total cases, currently at 0.90%
India's Active caseload stands at 3,03,476
28,326 new cases in the last 24 hours
Recovery Rate currently at 97.77%
26,032 recoveries in the last 24 hours increases Total Recoveries to 3,29,02,351
Weekly Positivity Rate (1.98%) less than 3% for last 93 days
Daily positivity rate (1.90%) less than 3% for last 27 days
56.32 crore Total Tests conducted so far
#Unite2FightCorona#IndiaFightsCorona
PRESS INFORMATION BUREAU
MINISTRY OF INFORMATION & BROADCASTING
GOVERNMENT OF INDIA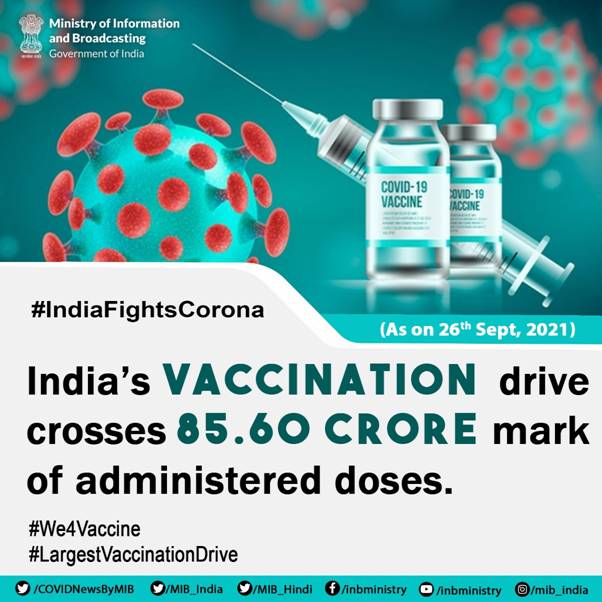 COVID-19 Update
India's Cumulative COVID-19 Vaccination Coverage crosses the landmark of 85 Cr
More than 68 Lakh doses administered in the last 24 hours
Recovery Rate currently at 97.77%
28,326 New Cases reported in the last 24 hours
India's Active Caseload (3,03,476) is 0.90% of Total Cases
Weekly Positivity Rate (1.98%) less than 3% for last 93 days
With the administration of 68,42,786 vaccine doses in the last 24 hours, India's COVID-19 vaccination coverage crossed the landmark of 85 Cr (85,60,81,527) as per provisional reports till 7 am today. This has been achieved through 83,64,110 sessions.
The break-up of the cumulative figure as per the provisional report till 7 am today include:
 

HCWs

1st Dose

1,03,71,245

2nd Dose

88,28,268

 

FLWs

1st Dose

1,83,48,990

2nd Dose

1,48,10,221

 

Age Group 18-44 years

1st Dose

34,66,84,035

2nd Dose

7,34,36,483

 

Age Group 45-59 years

1st Dose

15,59,65,608

2nd Dose

7,35,71,780

 

Over 60 years

1st Dose

9,94,61,207

2nd Dose

5,46,03,690

Total

85,60,81,527
The recovery of 26,032 patients in the last 24 hours has increased the cumulative tally of recovered patients (since the beginning of the pandemic) to 3,29,02,351.
Consequently, India's recovery rate stands at 97.77%. Recovery Rate is currently at its highest peak since March 2020.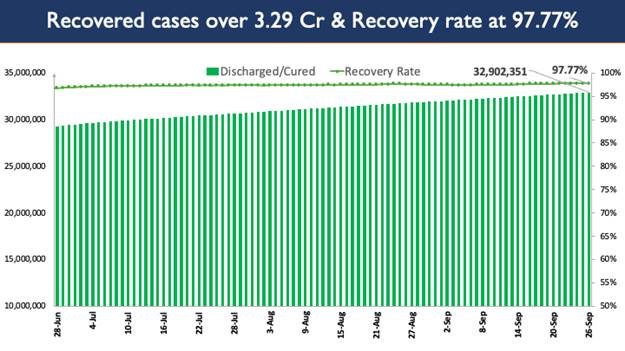 Sustained and collaborative efforts by the Centre and the States/UTs continue the trend of less than 50,000 Daily New Cases that is being reported for 91 consecutive days now.
28,326 new cases were reported in the last 24 hours.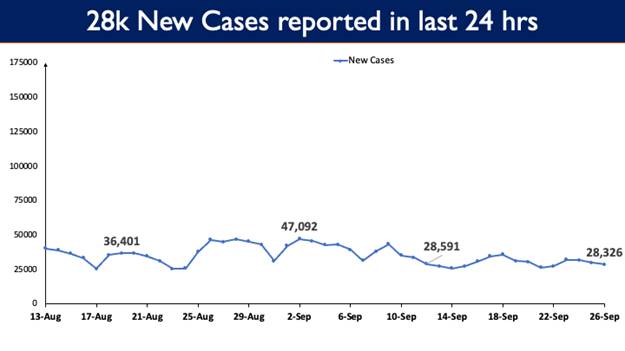 The Active Caseload is presently 3,03,476. Active cases presently constitute 0.90% of the country's total Positive Cases.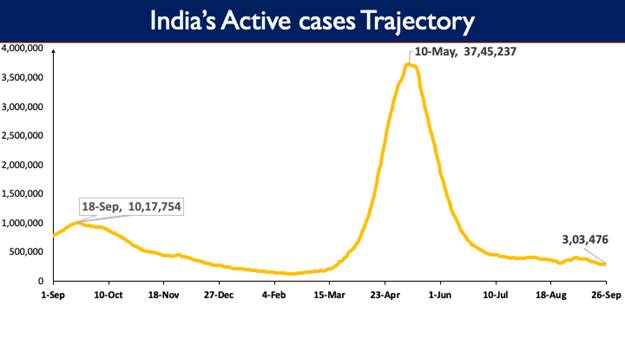 The testing capacity across the country continues to be expanded. The last 24 hours saw a total of
14,88,945 tests being conducted. India has so far conducted over 56.32 Cr (56,32,43,245) cumulative tests.
While testing capacity has been enhanced across the country, Weekly Positivity Rate at 1.98% remains less than 3% for the last 93 days now. The Daily Positivity rate reported to be 1.90%. The daily Positivity rate has remained below 3% for last 27 days and below 5% for 110 consecutive days now.
Details: https://pib.gov.in/PressReleasePage.aspx?PRID=1758199
Update on COVID-19 Vaccine Availability in States/UTs
More than 83.54 Crore vaccine doses provided to States/UTs
More than 4.56 Crore balance and unutilized vaccine doses still available with States/UTs with over 1.17 Crore doses in Pipeline
As part of the nationwide vaccination drive, Government of India has been supporting the States and UTs by providing them COVID Vaccines free of cost. In the new phase of the universalization of the COVID19 vaccination drive, the Union Government will procure and supply (free of cost) 75% of the vaccines being produced by the vaccine manufacturers in the country to States and UTs.
 

VACCINE DOSES

 

(As on 26th September 2021)

 

SUPPLIED

 

83,54,12,250

 

PIPELINE

 

1,17,12,275

 

BALANCE AVAILABLE

 

 

4,56,96,920
More than 83.54 crore (83,54,12,250) vaccine doses have been provided to States/UTs so far through Govt of India (free of cost channel) and through direct state procurement category. Further, more than 1.17 Crore doses (1,17,12,275) are in the pipeline.
More than 4.56 Cr (4,56,96,920) balance and unutilized COVID Vaccine doses are still available with the States/UTs to be administered.
Details: https://pib.gov.in/PressReleasePage.aspx?PRID=1758204
Important Tweets
#CoronaVirusUpdates:#COVID19 testing status update:@ICMRDELHI stated that 56,32,43,245 samples tested upto September 25, 2021

14,88,245 samples tested on September 25, 2021#IndiaFightsCorona #Unite2FightCorona #StaySafe @DBTIndia pic.twitter.com/QQ8wo7uanO

— #IndiaFightsCorona (@COVIDNewsByMIB) September 26, 2021
📍𝑴𝒐𝒓𝒆 𝒕𝒉𝒂𝒏 420 𝑴𝒊𝒍𝒍𝒊𝒐𝒏 𝒗𝒂𝒄𝒄𝒊𝒏𝒆 𝒅𝒐𝒔𝒆𝒔 𝒂𝒅𝒎𝒊𝒏𝒊𝒔𝒕𝒆𝒓𝒆𝒅 𝒕𝒐 18-44 𝒚𝒆𝒂𝒓𝒔 𝒂𝒈𝒆 𝒈𝒓𝒐𝒖𝒑 𝒖𝒏𝒅𝒆𝒓 𝒕𝒉𝒆 #𝑳𝒂𝒓𝒈𝒆𝒔𝒕𝑽𝒂𝒄𝒄𝒊𝒏𝒂𝒕𝒊𝒐𝒏𝑫𝒓𝒊𝒗𝒆 (As on 26 September, 2021, 8 AM)#We4Vaccine#VaccinationForAll pic.twitter.com/xufdIm4eAz

— #IndiaFightsCorona (@COVIDNewsByMIB) September 26, 2021
📍Government of India has so far provided more than 83.54 crore vaccine doses to States/UTs Free of Cost (As on 26 September, 2021, 8:00 am)

➡️More than 4.56 crore doses are still available with States/UTs to be administered.#We4Vaccine #Unite2FightCorona pic.twitter.com/ankUsC6IZD

— #IndiaFightsCorona (@COVIDNewsByMIB) September 26, 2021
📍India's Cumulative Vaccination Coverage(As on 26 Sept, 2021, 08 AM)

➡️More than 85 crore doses administered
➡️More than 42 crore beneficiaries of age group 18-44 years vaccinated in phase-3 of #LargestVaccinationDrive #Unite2FightCorona #We4Vaccine pic.twitter.com/jlgVICb28w

— #IndiaFightsCorona (@COVIDNewsByMIB) September 26, 2021
*********
AS
(Release ID: 1758358)
Visitor Counter : 17