PIB Headquarters
PIB'S BULLETIN ON COVID-19
Posted On:
27 SEP 2021 7:05PM by PIB Delhi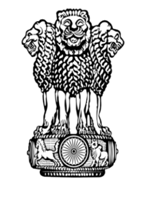 86.01 Cr. vaccine doses have been administered so far under Nationwide Vaccination Drive
Active cases account for less than 1% of total cases, currently at 0.89%
India's Active caseload stands at 2,99,620; lowest in 191 days
26,041 new cases in the last 24 hours
Recovery Rate currently at 97.78%
29,621 recoveries in the last 24 hours increases Total Recoveries to 3,29,31,972
Weekly Positivity Rate (1.94%) less than 3% for last 94 days
Daily positivity rate (2.24%) less than 3% for last 28 days
56.44 crore Total Tests conducted so far
#Unite2FightCorona#IndiaFightsCorona
PRESS INFORMATION BUREAU
MINISTRY OF INFORMATION & BROADCASTING
GOVERNMENT OF INDIA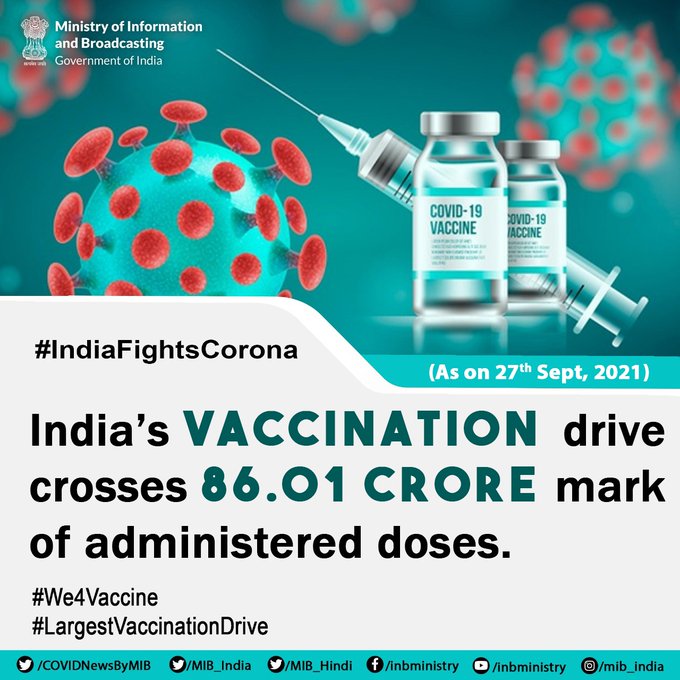 COVID-19 Update
India's Cumulative COVID-19 Vaccination Coverage crosses the landmark of 86Cr
More than 38 Lakh doses administered in the last 24 hours
Recovery Rate currently at 97.78%
26,041 New Cases reported in the last 24 hours
India's Active Caseload (2,99,620) is 0.89% of Total Cases
Weekly Positivity Rate (1.94%) less than 3% for last 94 days
With the administration of 38,18,362 vaccine doses in the last 24 hours, India's COVID-19 vaccination coverage crossed the landmark of 86Cr (86,01,59,011) as per provisional reports till 7 am today. This has been achieved through 84,07,679 sessions.
The break-up of the cumulative figureas per the provisional report till 7 am today include:
 

HCWs

1st Dose

1,03,71,418

2nd Dose

88,35,377

 

FLWs

1st Dose

1,83,49,453

2nd Dose

1,48,33,709

 

Age Group 18-44 years

1st Dose

34,82,66,215

2nd Dose

7,45,08,007

 

Age Group 45-59 years

1st Dose

15,64,81,731

2nd Dose

7,39,69,804

 

Over 60 years

1st Dose

9,97,47,469

2nd Dose

5,47,95,828

Total

86,01,59,011
The recovery of 29,621 patients in the last 24 hours has increased the cumulative tally of recovered patients (since the beginning of the pandemic) to 3,29,31,972.
Consequently, India's recovery rate stands at 97.78%. Recovery Rate is currently at its highest peak since March 2020.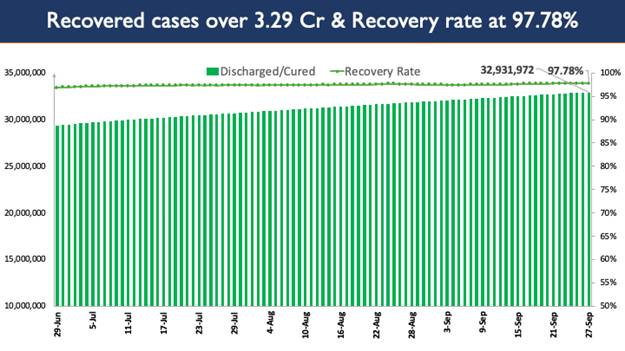 Sustained and collaborative efforts by the Centre and the States/UTs continue the trend of less than 50,000 Daily New Cases that is being reported for 92 consecutive days now.
26,041 new cases were reported in the last 24 hours.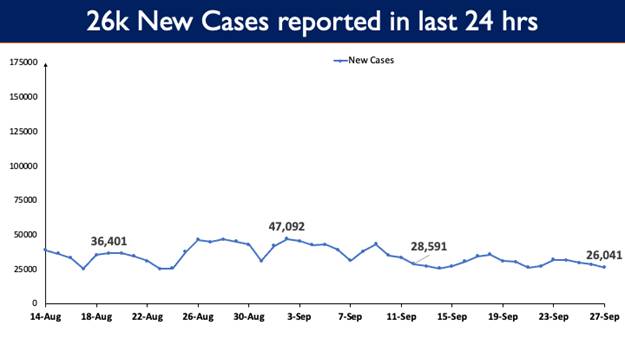 The Active Caseload is presently2,99,620. Active cases presently constitute 0.89% of the country's total Positive Cases.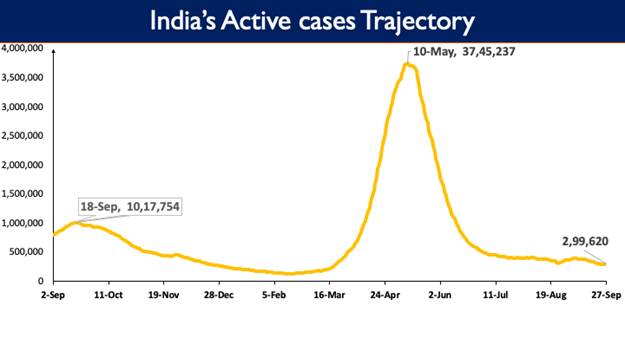 The testing capacity across the country continues to be expanded. The last 24 hours saw a total of
11,65,006tests being conducted. India has so far conducted over 56.44 Cr (56,44,08,251) cumulative tests.
While testing capacity has been enhanced across the country, Weekly Positivity Rate at 1.94% remains less than 3% for the last 94 days now. The Daily Positivity rate reported to be 2.24%. The daily Positivity rate has remained below3% for last 28 days and below 5% for 111 consecutive days now.
Details: https://pib.gov.in/PressReleasePage.aspx?PRID=1758458
Update on COVID-19 Vaccine Availability in States/UTs
More than 84.50 Crore vaccine doses provided to States/UTs
More than 4.74 Crore balance and unutilized vaccine doses still available with States/UTswith nearly 21 Lakh doses in Pipeline
As part of the nationwide vaccination drive, Government of India has been supporting the States and UTs by providing them COVID Vaccines free of cost. In the new phase of the universalization of the COVID19 vaccination drive, the Union Government will procure and supply (free of cost) 75% of the vaccines being produced by the vaccinemanufacturers in the country to States and UTs.
 

VACCINE DOSES

 

(As on 27thSeptember 2021)

 

SUPPLIED

 

84,50,28,655

 

PIPELINE

 

20,95,870

 

BALANCE AVAILABLE

 

 

4,74,80,540
More than 84.50 crore (84,50,28,655) vaccine doses have been provided to States/UTs so far through Govt of India (free of cost channel) and through direct state procurement category.Further,nearly 21 Lakh doses (20,95,870) are in the pipeline.
More than 4.74Cr (4,74,80,540) balance and unutilized COVID Vaccine doses are still available with the States/UTs to be administered.
Details: https://pib.gov.in/PressReleasePage.aspx?PRID=1758469
Indo-US Health Dialogue 2021
Union Minister of State for Health and Family Welfare addresses 4th Indo-US Health Dialogue
"Collaboration between our countries will advance scientific discovery and management of global health threats.": Dr. Bharati Pravin Pawar
The Minister put in foreground the mutual solidarity between both sides during the COVID-19 pandemic, where both sides extended their relentless support. She commended the way in which India and the U.S. have enhanced collaboration in research and development, especially with respect to pharmaceuticals, therapeutics, and vaccine development, which could be seen in Indian vaccine companies collaborating with US based agencies to develop COVID-19 vaccine.
Details: https://pib.gov.in/PressReleasePage.aspx?PRID=1758507
Important Tweets
आरोग्य सेतु ऐप से कोरोना संक्रमण को फैलने से रोकने में बहुत मदद मिली।

सबको वैक्सीन, मुफ्त वैक्सीन अभियान के तहत भारत आज करीब-करीब 90 करोड़ वैक्सीन डोज लगा पाया है तो इसमें Co-WIN का बहुत बड़ा रोल है: PM @narendramodi

— PMO India (@PMOIndia) September 27, 2021
कोरोना काल में टेलिमेडिसिन का भी अभूतपूर्व विस्तार हुआ है।

ई-संजीवनी के माध्यम से अब तक लगभग सवा करोड़ रिमोट कंसल्टेशन पूरे हो चुके हैं।

ये सुविधा हर रोज़ देश के दूर-सुदूर में रहने वाले हजारों देशवासियों को घर बैठे ही शहरों के बड़े अस्पतालों के डॉक्टरों से कनेक्ट कर रही है: PM

— PMO India (@PMOIndia) September 27, 2021
📍More than 54.7 crore doses administered in first 97 days of the World's Largest Free-For-All Vaccination Drive launched on June 21, 2021 (As on September 27, 2021)

➡️ But this fight isn't over yet, strengthen the country's endeavour by getting #vaccinated pic.twitter.com/Dacl9X1gSR

— #IndiaFightsCorona (@COVIDNewsByMIB) September 27, 2021
📍More than 11 Lakh (11,65,006) #COVID19 samples tested in the last 24 hours.

☑️Together, we can win the battle against COVID-19.

➡️#StaySafe and follow #COVIDAppropriateBehaviour #Unite2FightCorona @MoHFW_INDIA pic.twitter.com/WfgNqVVlQl

— #IndiaFightsCorona (@COVIDNewsByMIB) September 27, 2021
📍#𝑪𝑶𝑽𝑰𝑫19 𝑽𝒂𝒄𝒄𝒊𝒏𝒆 𝑫𝒐𝒔𝒆𝒔: 𝑨𝒈𝒆-𝒘𝒊𝒔𝒆 𝑫𝒊𝒔𝒕𝒓𝒊𝒃𝒖𝒕𝒊𝒐𝒏 (As on September 27th, 2021, till 11:00 AM)

✅ Above 60 years: 18.1%
✅ 45-60 years: 28.2%
✅ 18-44 years: 53.7%#We4Vaccine#LargestVaccinationDrive#Unite2FightCorona pic.twitter.com/ayPtdUx5ee

— #IndiaFightsCorona (@COVIDNewsByMIB) September 27, 2021
📍Total #COVID19 Cases in India (as on September 27, 2021)

▶97.78% Cured/Discharged/Migrated (3,29,31,972)
▶0.89% Active cases (2,99,620)
▶1.33% Deaths (4,47,194)

Total COVID-19 confirmed cases = Cured/Discharged/Migrated+Active cases+Deaths#StaySafe pic.twitter.com/ziZv1fRIY5

— #IndiaFightsCorona (@COVIDNewsByMIB) September 27, 2021
📍Total #COVID19 Cases in India (as on September 27, 2021)

▶97.78% Cured/Discharged/Migrated (3,29,31,972)
▶0.89% Active cases (2,99,620)
▶1.33% Deaths (4,47,194)

Total COVID-19 confirmed cases = Cured/Discharged/Migrated+Active cases+Deaths#StaySafe pic.twitter.com/ziZv1fRIY5

— #IndiaFightsCorona (@COVIDNewsByMIB) September 27, 2021
*********
AS
(Release ID: 1758657)
Visitor Counter : 12