PIB Headquarters
PIB'S BULLETIN ON COVID-19
Posted On:
23 JUL 2021 7:45PM by PIB Delhi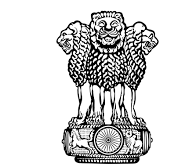 India's Cumulative COVID-19 Vaccination Coverage exceeds 42.34 Cr

Recovery Rate stands at 97.36%

35,342 Daily New Cases reported in last 24 hours

India's Active Caseload (4,05,513) presently constitutes 1.30% of total cases

Daily Positivity Rate (2.12%) less than 3% for 32 consecutive days
#Unite2FightCorona
#IndiaFightsCorona
.
PRESS INFORMATION BUREAU
MINISTRY OF INFORMATION & BROADCASTING
GOVERNMENT OF INDIA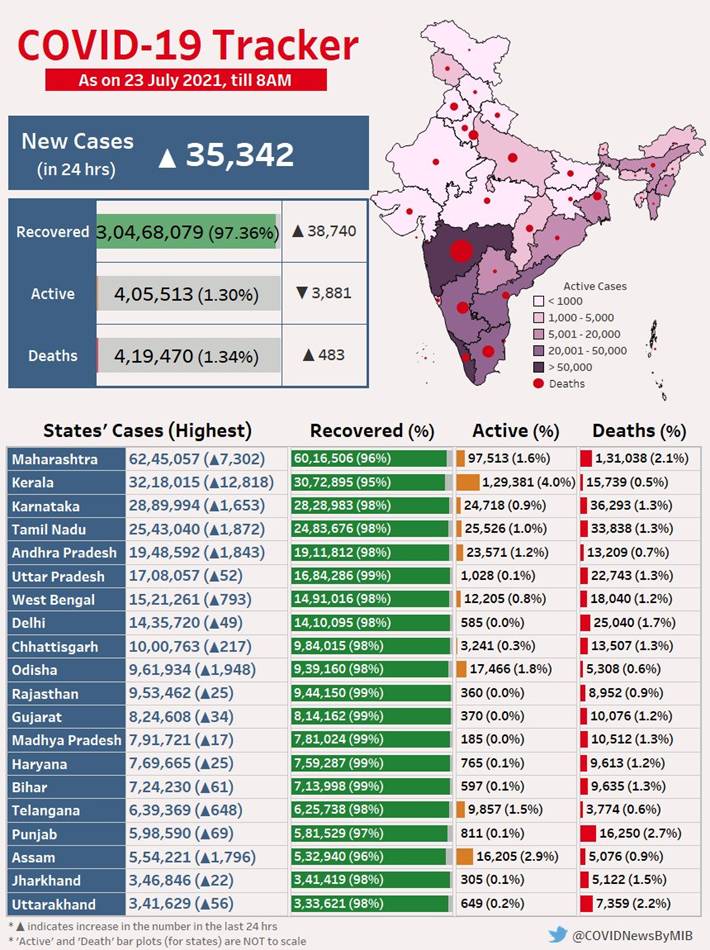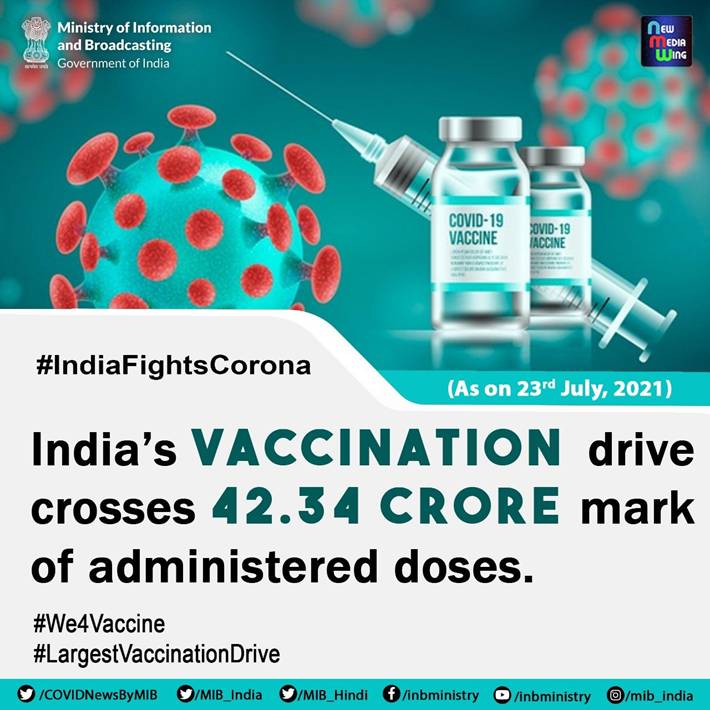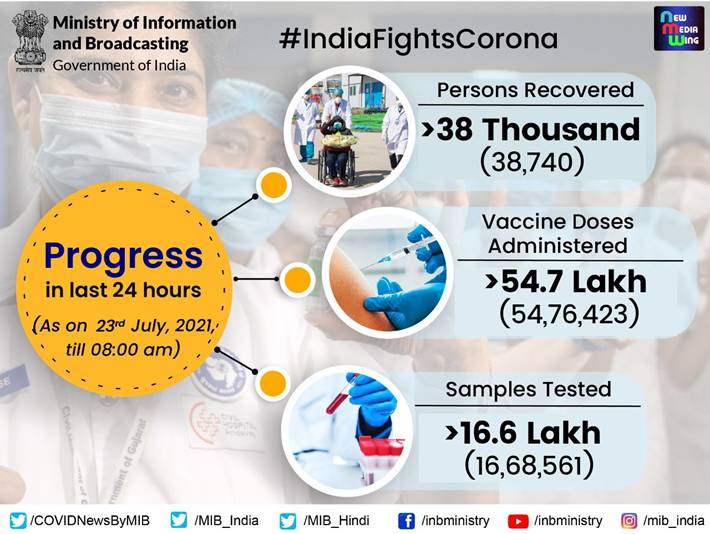 COVID-19 Update
India's Cumulative COVID-19 Vaccination Coverage exceeds 42.34 Cr

Recovery Rate stands at 97.36%

35,342 Daily New Cases reported in last 24 hours

India's Active Caseload (4,05,513) presently constitutes 1.30% of total cases

Daily Positivity Rate (2.12%) less than 3% for 32 consecutive days
India's COVID-19 vaccination coverage has exceeded 42.34 crores. Cumulatively, 42,34,17,030 vaccine doses have been administered through 54,76,423 sessions, as per the provisional report till 8 am today. 54,76,423 vaccine doses were administered in the last 24 hours.
These include:
HCWs

1st Dose

1,02,80,416

2nd Dose

76,51,103

FLWs

1st Dose

1,78,34,482

2nd Dose

1,06,40,254

Age Group 18-44 years

1st Dose

13,33,04,056

2nd Dose

55,55,468

Age Group 45-59 years

1st Dose

9,95,79,752

2nd Dose

3,25,92,396

Over 60 years

1st Dose

7,29,46,445

2nd Dose

3,30,32,658

Total

42,34,17,030
The new phase of universalization of COVID-19 vaccination has commenced from 21st June, 2021. The Union Government is committed to accelerating the pace and expanding the scope of COVID-19 vaccination throughout the country.
Out of the people infected since the beginning of the pandemic, 3,04,68,079 people have already recovered from COVID-19 and 38,740 patients have recovered in the last 24 hours. This constitutes an overall recovery rate of 97.36%.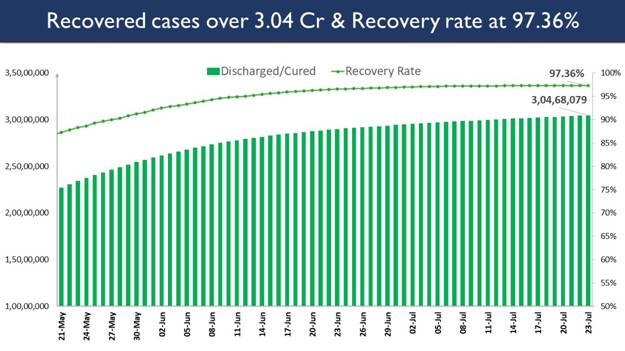 India has reported 35,342 daily new cases in the last 24 hours.
Less than 50,000 Daily New Cases have been reported since 32 continuous days. This is a result of sustained and collaborative efforts by the Centre and the States/UTs.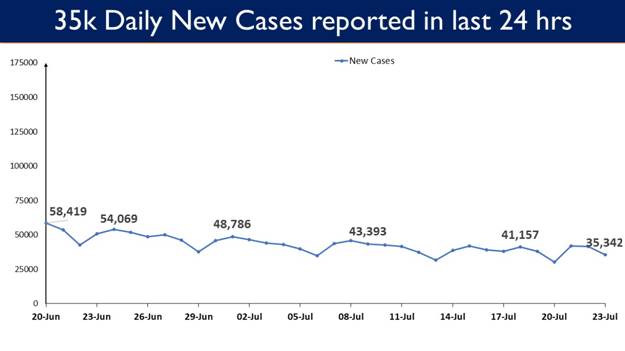 India's Active Caseload today stands at 4,05,513 and active cases now constitute 1.30% of the country's total Positive Cases.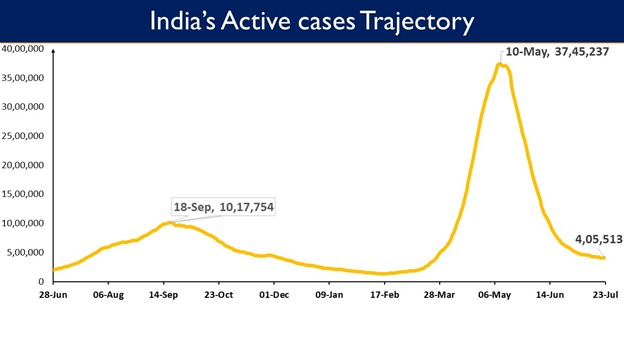 With substantially ramped up testing capacity across the country, a total of 16,68,561 tests were conducted in the last 24 hours in the country. Cumulatively, India has conducted over 54.7 crore (54,76,423) tests so far.
While on one side testing capacity has been enhanced across the country, Weekly Positivity Rate is currently at 2.14% and the Daily Positivity rate stands at 5% today. Daily Positivity rate has remained less than 3% for 32 consecutive days, and has remained below 5% for 45 consecutive days now.
Details: https://pib.gov.in/PressReleasePage.aspx?PRID=1738011
COVID-19 Vaccination Update
More than 43.87 Crore vaccine doses provided to States/UTs
More than 2.75 Crore balance and unutilized doses still available with States/UTs and private hospitals to be administered
As part of the nationwide vaccination drive, Government of India has been supporting the States and UTs by providing them COVID Vaccines free of cost. In the new phase of the universalization of the COVID19 vaccination drive, the Union Government will procure and supply (free of cost) 75% of the vaccines being produced by the vaccine manufacturers in the country to States and UTs.
 

VACCINE DOSES

 

(As on 23nd July 2021)

 

SUPPLIED

 

43,87,50,190

 

IN PIPELINE

 

71,40,000

 

CONSUMPTION

 

41,12,30,353

 

BALANCE AVAILABLE

 

 

2,75,19,837
More than 43.87crore (43,87,50,190) vaccine doses have been provided to States/UTs so far, through all sources and a further 71,40,000 doses are in the pipeline.
Of this, the total consumption including wastages is 41,12,30,353doses (as per data available at 8 AM today).
More than 2.75 Cr (2,75,19,837) balance and unutilized COVID Vaccine doses are still available with the States/UTs and private hospitals to be administered.
Details:https://pib.gov.in/PressReleasePage.aspx?PRID=1737981
Inputs from PIB Field Units
Assam : Assam on Thursday registered 1,796 fresh cases of Coronavirus, with a positivity rate of 1.13 per cent. As the state experiences a sharp decline in the positivity rate, the active caseload of the state has touched 14,858. 22 Covid-related fatalities have been recorded.
Manipur : In Manipur, deaths and positive cases of COVID-19 continue to remain high.12 deaths, 928 new cases were reported during last 24 hours.The State Government has published guidelines for 'Chief Minister COVID-19 Affected Livelihood Support Scheme' in the Official Gazette Extraordinary No. 79 dated July 15.
Meghalaya :Reiterating its earlier observation, the High Court of Meghalaya on Thursday directed the State Government to deal with the vaccine hesitation issue on a priority basis and with full earnest.Meghalaya recorded 14 deaths from COVID-19 on Thursday, the highest in the last 33 days while the number of fresh cases hovered above the 500-mark for the third straight day. The death toll in the state climbed to 988 while the active tally stands at 4,413.
Nagaland :Nagaland reports 81 new COVID-19 cases and one death on Thursday. Active cases are 1237 while total reaches to 27,024.
Sikkim : Sikkim's COVID-19 totally rose to 24,341 on Thursday as 294more people tested positive for theinfection.
Punjab: The total number of patients tested Positive is 598590. Number of active cases is 811. Total Deaths reported is 16250. Total COVID-19 Vaccinated with 1st dose (Healthcare + Frontline Workers) is 1357107. Total COVID-19 Vaccinated with 2nd dose (Healthcare + Frontline Workers) is 408778. Total above 45 Vaccinated with 1st dose is 3689900. Total above 45 Vaccinated with 2nd dose is 1077085.
Haryana: Total Number of Samples found positive till date is 769665. Total active COVID-19 patients is765. Number of deaths is 9613. Cumulative number of people vaccinated till date is 10893459.
Chandigarh: Total Lab confirmed COVID-19 cases is 61916. Total number of Active Cases is  34. Total number of COVID-19 deaths till date is 809.
Himachal Pradesh: Total number of patients tested Covid positive till date is 204800. Total number of Active Cases is 935. Total deaths reported till date is 3493.
KERALA: The spread of Covid-19 is on the rise again in the state. Test positivity rate crossed 12 in the state after seven days. Health experts warn that the situation could worsen in the coming days. The state recorded 12,818 COVID-19 cases on Thursday, pushing the total cases reported from the state to 32,18,015. So far a total of   1,78,45,515     people have received the first and second dose. Of these 1,25,24,417 received the first dose and   53,21,098   got the second dose.
TAMIL NADU;Tamil Nadu recorded 1872 positive cases of Covid-19 on Thursday, bringing the state tally to 25,43,040. Among these, Chennai reported 133 positive cases, bringing the city's total to 5,36,756. The state recorded 29 deaths on Thursday, putting the state toll at 33,838. 26 of them had succumbed due to comorbidities. A total of 2475 patients were discharged following treatment, taking the total number of recoveries to 24,83,676.
KARNATAKA; As per the State Government bulletin released for 22-07-2021, New Cases Reported: 1,653; Total Active Cases: 24,695 New Covid Deaths: 31; Total Covid Deaths: 36,293
ANDHRAPRADESH: State reported 1843 new Covid-19 cases after testing 70,727 samples with 13 deaths, while 2199 got discharged during the last 24 hours. Total cases: 19,48,592; Active cases: 23,571; Discharges: 19,11,812; Deaths: 13,209.
TELANGANA: A total of 648 new cases and three fatalities were reported yesterday taking the total number of positive cases in the state to 6,39,369 and deaths to 3,774.
*********
MV
(Release ID: 1738291)
Visitor Counter : 20