PIB Headquarters
PIB'S BULLETIN ON COVID-19
Posted On:
31 JUL 2021 7:17PM by PIB Delhi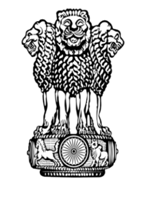 46.15 Cr. Vaccine Doses administered so far under Nationwide Vaccination Drive
3,07,81,263 total recoveries across the country so far
Recovery Rate currently at 97.37%
37,291 patients recovered during last 24 hours
India reports 41,649 new cases in last 24 hours
India's Active caseload currently 4,08,920
Active cases constitute 1.29% of total cases
Weekly Positivity Rate remains below 5%, currently at 2.42%
Daily positivity rate at 2.34%, remains below 5%
Testing capacity substantially ramped up – 46.64 crore tests conducted (Total)
       #Unite2FightCorona                                                                                    #IndiaFightsCorona
PRESS INFORMATION BUREAU
MINISTRY OF INFORMATION & BROADCASTING
GOVERNMENT OF INDIA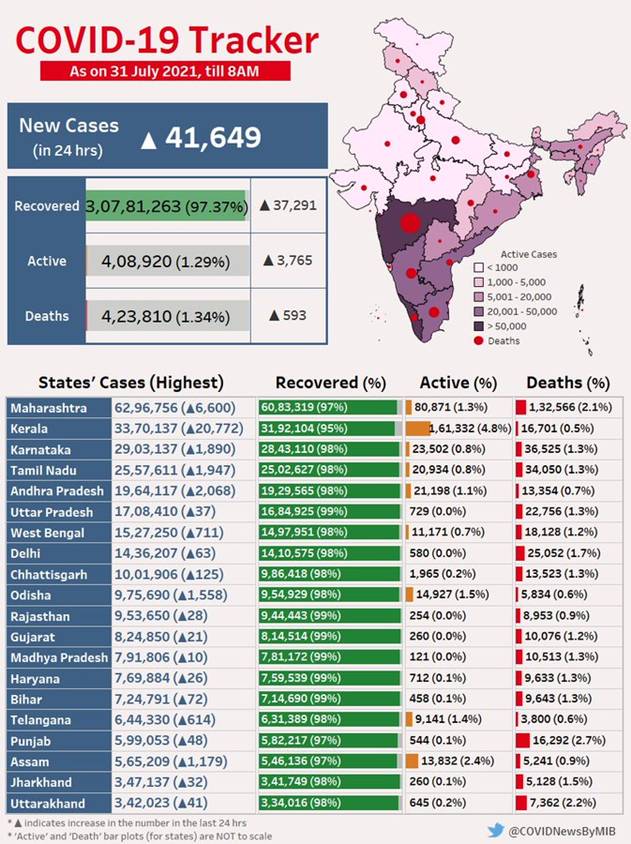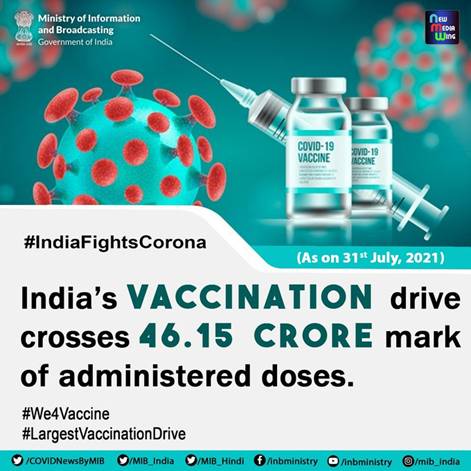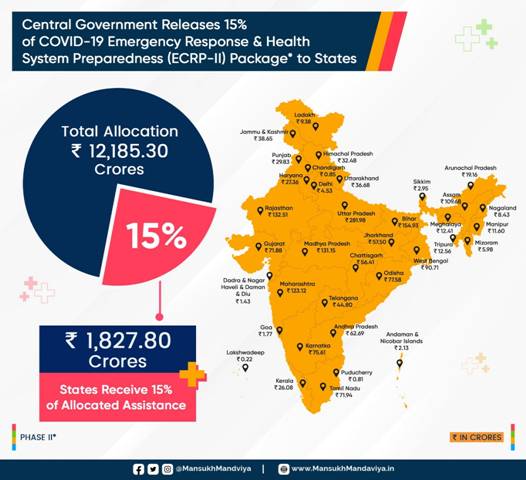 COVID-19 Update
India's Cumulative COVID-19 Vaccination Coverage crosses the landmark of 46 Cr
Nearly 53 Lakh vaccine doses administered in the last 24 hours
Recovery Rate stands at 97.37%
41,649 Daily New Cases reported in last 24 hours
India's Active Caseload (4,08,920) presently constitutes 1.29% of total cases
Daily Positivity Rate (2.34%) less than 5% for 54 consecutive days
India's COVID-19 vaccination coverage crossed the landmark of 46 Cr yesterday. Cumulatively, 46,15,18,479 vaccine doses have been administered through 54,94,423 sessions, as per the provisional report till 8 am today. 52,99,036 vaccine doses were administered in the last 24 hours. These include:
HCWs

1st Dose

1,03,02,313

2nd Dose

78,22,150

FLWs

1st Dose

1,79,32,882

2nd Dose

1,12,50,974

Age Group 18-44 years

1st Dose

15,22,17,587

2nd Dose

80,61,768

Age Group 45-59 years

1st Dose

10,44,37,699

2nd Dose

3,84,29,220

Over 60 years

1st Dose

7,49,29,832

2nd Dose

3,61,34,054

Total

46,15,18,479
The new phase of universalization of COVID-19 vaccination has commenced from 21st June, 2021. The Union Government is committed to accelerating the pace and expanding the scope of COVID-19 vaccination throughout the country.
Out of the people infected since the beginning of the pandemic, 3,07,81,263 people have already recovered from COVID-19 and 37,291 patients have recovered in the last 24 hours. This constitutes an overall recovery rate of 97.37%.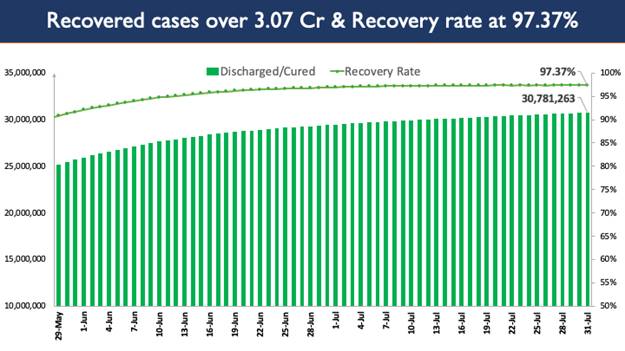 India has reported 41,649 daily new cases in the last 24 hours.
Less than 50,000 Daily New Cases have been reported since thirty-four continuous days. This is a result of sustained and collaborative efforts by the Centre and the States/UTs.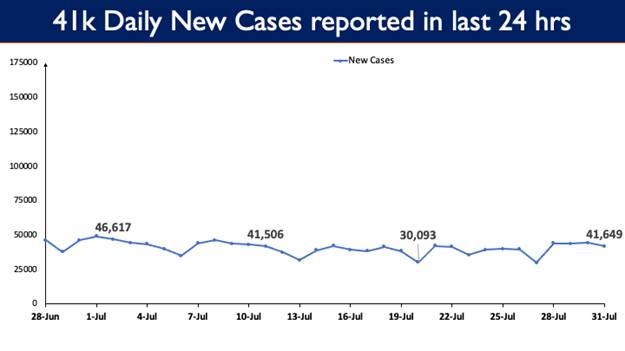 India's Active Caseload today stands at 4,08,920 and active cases now constitute 1.29% of the country's total Positive Cases.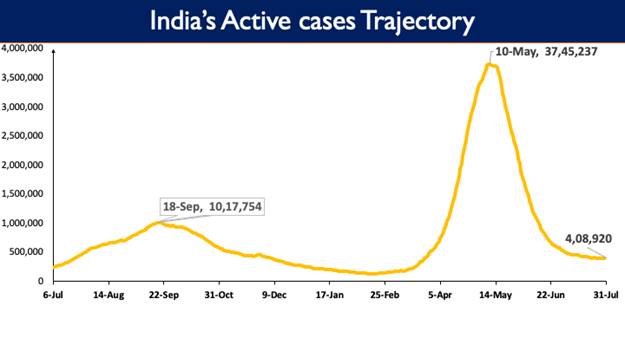 With substantially ramped up testing capacity across the country, a total of 17,76,315 tests were conducted in the last 24 hours in the country. Cumulatively, India has conducted over 46.64 crore (46,64,27,038) tests so far.
While on one side testing capacity has been enhanced across the country, Weekly Positivity Rate is currently at 2.42% and the Daily Positivity rate stands at 2.34% today. Daily Positivity rate has remained below 5% for 54 consecutive days now.
Details: https://pib.gov.in/PressReleasePage.aspx?PRID=1740975
COVID-19 Vaccination Update
More than 48.78 Crore vaccine doses provided to States/UTs
More than 3.14 Crore balance and unutilized doses still available with States/UTs and private hospitals to be administered
As part of the nationwide vaccination drive, Government of India has been supporting the States and UTs by providing them COVID Vaccines free of cost. In the new phase of the universalization of the COVID19 vaccination drive, the Union Government will procure and supply (free of cost) 75% of the vaccines being produced by the vaccine manufacturers in the country to States and UTs.
| | |
| --- | --- |
| VACCINE DOSES | (As on 31 July 2021) |
| SUPPLIED | 48,78,63,410 |
| IN PIPELINE | 68,57,590 |
| CONSUMPTION | 45,82,60,052 |
| BALANCE AVAILABLE | 3,14,57,081 |
More than 48.78 crore (48,78,63,410) vaccine doses have been provided to States/UTs so far, through all sources and a further 68,57,590 doses are in the pipeline.
Of this, the total consumption including wastages is 45,82,60,052 doses (as per data available at 8 AM today).
More than 3.14 Cr (3,14,57,081) balance and unutilized COVID Vaccine doses are still available with the States/UTs and private hospitals to be administered.
Details: https://pib.gov.in/PressReleasePage.aspx?PRID=1740977
Centre Reviews COVID-19 Situation in 10 States showing an Upsurge in COVID Cases and Positivity
In districts with more than 10% positivity, strict restrictions advised to prevent crowds and intermingling of people
Testing to be ramped up along with Vaccination Saturation in Targeted Districts for vulnerable groups
2nd Vaccine Dose coverage to be given priority
Effective and Regular Monitoring of Home Isolated persons to prevent spread of infection
Encourage Private Hospitals to set up Oxygen PSA Plants
Shri Rajesh Bhushan, Union Health Secretary chaired a high-level meeting today to review the COVID-19 situation in 10 states of Kerala, Maharashtra, Karnataka, Tamil Nadu, Odisha, Assam, Mizoram, Meghalaya, Andhra Pradesh and Manipur. The public health measures taken for surveillance, containment and management of COVID19 by the health authorities in these states were also reviewed. These States are either reporting a rise in new daily COVID cases or a rise in positivity. Dr Balram Bhargava, DG ICMR and Secretary (DHR) was also present. Principal Secretary (Health), Mission Director (NHM), State Surveillance Officer of all these states participated in the review meeting. Union Secretary for Health and Family Welfare underlined the critical COVID control and management strategies.
Details: https://pib.gov.in/PressReleasePage.aspx?PRID=1741012
Important Tweets
Policing has to be futuristic and compassionate.

We saw glimpses of this in the manner in which our police forces helped people in need while mitigating the COVID-19 situation. @IPS_Association pic.twitter.com/7li0Iu4YRL

— Narendra Modi (@narendramodi) July 31, 2021
कोरोना के खिलाफ लड़ाई में हमारे पुलिसकर्मियों ने, देशवासियों के साथ कंधे से कंधा मिलाकर काम किया है।

इस प्रयास में कई पुलिस कर्मियों को अपने प्राणों ही आहूति तक देनी पड़ी है।

मैं उन्हें श्रद्धांजलि देता हूं और देश की तरफ से उनके परिवारों के प्रति संवेदना प्रकट करता हूं: PM

— PMO India (@PMOIndia) July 31, 2021
कोरोना से लड़ाई में हमारे पुलिसकर्मियों ने, देशवासियों के साथ कंधे से कंधा मिलाकर काम किया है। इस प्रयास में कई पुलिसकर्मियों को अपने प्राणों की आहुति तक देनी पड़ी।

मैं उन्हें श्रद्धांजलि देता हूं व देश की तरफ से उनके परिवारों के प्रति संवेदना प्रकट करता हूं: PM @NarendraModi जी pic.twitter.com/n1BrkSaPpD

— Mansukh Mandaviya (@mansukhmandviya) July 31, 2021
केंद्र सरकार द्वारा कोरोना से लड़ने हेतु देश को सशक्त बनाने के लिए तय 'इमरजेंसी कोविड रिस्पांस पैकेज' की कुल राशि का 15% यानी कि ₹1827.80 करोड़ राज्यों एवं UTs को भेज दिए गए है।

यह पैकेज देशभर में हेल्थ इंफ्रास्ट्रक्चर के विकास में सहायक सिद्ध होगा।#Unite2FightCorona pic.twitter.com/aT8XEXNNTg

— Mansukh Mandaviya (@mansukhmandviya) July 31, 2021
State-wise details of Total Confirmed #COVID19 cases (till 31st July, 2021, 8 AM)

➡️States with 1-100000 confirmed cases
➡️States with 100001-800000 confirmed cases
➡️States with 800000+ confirmed cases
➡️Total no. of confirmed cases so far#StaySafe pic.twitter.com/ZOk2Ov5ouy

— #IndiaFightsCorona (@COVIDNewsByMIB) July 31, 2021
📍Will vaccine affect my mensuration cycle❓❓❓

▶️#COVID19 has no correlation with mensuration.

▶️#COVID19 vaccines are safe and tested for all eligible women, above the age of 18 years.@MoHFW_INDIA @mansukhmandviya#Unite2FightCorona #StaySafe pic.twitter.com/sgZ5tffiQ5

— #IndiaFightsCorona (@COVIDNewsByMIB) July 31, 2021
#CoronaVirusUpdates:#COVID19 testing status update:@ICMRDELHI stated that 46,64,27,038 samples tested upto July 30, 2021

17,76,315 samples tested on July 30, 2021#IndiaFightsCorona #Unite2FightCorona #StaySafe @DBTIndia pic.twitter.com/zteRBITmq1

— #IndiaFightsCorona (@COVIDNewsByMIB) July 31, 2021
📍More than 17.1 crore doses administered in first 40 days of the World's Largest Free-For-All Vaccination Drive launched on June 21, 2021. (As on July 31, 2021)

➡️ But this fight isn't over yet, strengthen the country's endeavour by getting #Vaccinated pic.twitter.com/2sXM57RLP7

— #IndiaFightsCorona (@COVIDNewsByMIB) July 31, 2021
#IndiaFightsCorona:#COVID19Vaccination Status (As on 31st July, 2021, 8:00 AM)

✅Total vaccine doses administered (so far): 46,15,18,479

✅Vaccine doses administered (in last 24 hours): 52,99,036#We4Vaccine #LargestVaccinationDrive@ICMRDELHI @DBTIndia pic.twitter.com/5HEPler3dS

— #IndiaFightsCorona (@COVIDNewsByMIB) July 31, 2021
📍Total #COVID19 Cases in India (as on July 31st, 2021)

▶97.37% Cured/Discharged/Migrated (3,07,81,263)
▶1.29% Active cases (4,08,920)
▶1.34% Deaths (4,23,810)

Total COVID-19 confirmed cases = Cured/Discharged/Migrated+Active cases+Deaths#StaySafe pic.twitter.com/DhcYanK9Oc

— #IndiaFightsCorona (@COVIDNewsByMIB) July 31, 2021
*********
MV/AS
(Release ID: 1741093)
Visitor Counter : 27